Worshipping at the altar of the keyboard and mouse is one of the prerequisites for being a true PC gamer, or at least that's what the internet told me. And if the thought of using a controller so much as enters your head, you immediately relinquish your PC master race membership. Now, all jokes aside- the keyboard and mouse have their weakness (as much as some diehard PC enthusiasts hate to admit it).
I believe that the keyboard and mouse combination is objectively the best for certain types of games (such as MOBA, RTS, FPS, etc).
However, a good gaming controller makes much more sense if you're playing platformers (Cuphead and Super Meat Boy). Or fighting games (Mortal Kombat 11), racing games (Forza), and 3rd action adventures like Yakuza, Batman: Arkham Knight,  Dark Souls III, Sekiro, etc.
So don't miss out on the experience with playing certain game genres with a controller and just try one.
Xbox One Controller
Charging: Micro USB via Play & Charge Kit, 2 AA batteries
Connectivity: Proprietary Xbox One Wireless protocol, Bluetooth 4.0 (3rd revision and later),  3.5mm audio jack
Ergonomics and Size: Comfortably fits in the hands of pretty much everyone, unless you've got really small hands. Slightly heavier than the DualShock 4, and a bit bulkier too.
Dimensions: 6.02 x 4.01 x 2.4 (inches)
Weight: 9.9 ounces, around 281 grams
Build Quality: Great
Layout: Asymmetrical
Overview
This is the gold standard by which all other PC gaming controllers are measured. Is it the best? Certainly not, but it can't be beaten for the price and does pretty much everything at a more than satisfactory level. The later revisions (Model 1708, released in 2016 alongside the Xbox One S) come with Bluetooth support built-in. This means you don't have to purchase the proprietary Xbox Wireless Adapter to connect with your PC or phone.
But for some reason, they are still using micro USB instead of Type C and haven't managed to include an internal rechargeable lithium-ion battery. So you have to keep swapping out AAs in the middle of a game when your controller runs out of juice. Or, you could purchase the Plug & Play Charge Kit for an additional 20-something dollars so your controller charges while you play (thanks for being greedy Microsoft).
AA batteries and micro USB aside, the Xbox One controller is a solidly built hunk of rubber and plastic which feels comfortable and natural. The textured rubber grips ensure that this controller won't slip and slide around during a multi-hour session of Rainbow 6 Siege or Halo. And its rounded contours fit perfectly into your palm.
The classic Xbox asymmetrical layout is preferred by many PC gamers who are accustomed to the old Xbox 360 controllers. Thankfully, the D-pad has received an upgrade over the 360's circular style which was a pain in the butt for fighting game fans. The new Xbox One D-pad feels much more responsive and accurate, allowing you to play games such as Mortal Kombat and Super Meat Boy without messing up your combos.
Triggers have directional rumble feedback, and the shoulder buttons feel excellent with a more "clicky" response compared to the old 360 controllers. But the best part about the Xbox One controller has to be its out of the box support for games on PC, which is unmatched by any other controller. PC games will instantly recognize this controller and start behaving as if they are being played on an actual Xbox One S or X.
You can easily remap the buttons within Steam, and there is no need to install 3rd party software or drivers. The Xbox One controller is also available in a wide variety of colors, so you should have no trouble matching it to your PC theme. There are a bunch of skins available online which you can use to give your controller some personality. You can also check out the Xbox Design Lab which lets you mix and match colors or designs to create your own custom controller. 
Sony DualShock 4
Charging: Rechargeable, non-removable, internal Lithium-ion battery, charges through Micro USB
Connectivity: 2.4Ghz wireless and Bluetooth, 3.5mm stereo headset jack
Ergonomics and Size: Slender, with smooth and symmetrical curves. Ideal for small and medium-sized hands, and it's one of the lighter controllers around.
Dimensions: 161mm x 57mm x 100mm (width x height x depth), taken from Sony's official site
Weight: 210 grams or 7.4 ounces
Build Quality: Great
Layout: Classic DualShock symmetrical layout with the analog sticks at the bottom 
Overview
More and more cross-platform titles coming out. In addition, PS Now lets you stream PS games to your PC. This has encouraged PC users to purchase the DualShock 4.
Which is actually a pretty awesome controller, if you ignore the fact that it has worse triggers and shoulder buttons than the Xbox One controller. It also doesn't have rumble feedback as tactile as that of the Xbox One controller. But it fits better in the hands of smaller people and feels lighter despite being just as well built as any other controller out there. You also need to install DS4Windows software which is a 3rd part tool that lets you pair up the DualShock 4 wirelessly to your PC and customize stuff like key bindings and LED colors.
The DualShock 4 is a more feature-rich controller when compared to the base Xbox One controller. For starters, it has an internal lithium-ion battery which means you can charge while playing, and don't have to keep spending money on AA batteries. Secondly, even the earliest versions of this controller come with Bluetooth support built-in.
Which means you can hook it up to a laptop, phone, or desktop without buying a proprietary adapter. The DualShock 4 even has a capacitive touchpad (with a resolution of 1920 x 900) which comes in handy while playing some Sony exclusive PS4 launch titles. However, developers pretty much abandoned this feature since it feels clunky and unintuitive.
The touchpad also acts as a giant button, or two buttons- you can bind an action to left-click, and another to right-click. There is even a light bar on the DualShock 4 which is used for a variety of functions like denoting player number in co-op games (blue is player 1, red is player 2, green is player 3, and pink is player 4). It also tells you when you are taking damage during intense action sequences within games like Killzone: Shadow Fall.
The DualShock 4 even has a 6-axis motion sensing system comprised of a 3-axis gyroscope and a 3-axis accelerometer. This motion-sensing system can be used to steer in racing games or for aiming in shooters. And finally, it has a "Share" button which lets you instantly upload screenshots and video clips to the web. It also lets you broadcast live streams to Twitch.
You also get a mono speaker on the DualShock 4 which is used to play audio logs in certain games that take advantage of this feature. It's all up to the developers, some games notify you of events via the built-in speaker instead of using visual cues. Charging the DualShock 4 takes around 2 hours from zero to full.
And it can run for up to 8 hours on a single charge (which is less than the battery life on a Nintendo Switch Pro or Xbox One controller). DualShock 4 doesn't have the best PC game support, and certain titles won't recognize it. In that aspect, Xbox One takes the lead and I think it's the better choice for PC gaming.
Nintendo Switch Pro Controller
Charging: 1340maH internal lithium-ion battery which takes nearly 6 hours to fully recharge and provides up to 40 hours of runtime
Connectivity: USB Type C, Bluetooth, NFC
Ergonomics and Size: Fits like a glove, your fingers can fully curl around the sides for a positive grip. Buttons feel light and the triggers don't hang out too far like on the DualShock 4 controller.
Dimensions: 6.1 x 5.7 x 2.5 (inches)
Weight: 14 ounces or 396 grams (definitely one of the heaviest controllers out there)
Build Quality: Premium, extremely well-built for its price
Layout: Asymmetrical Xbox-like analog stick positions, with BAXY face buttons
Overview
Like the Xbox One controller, the Switch Pro controller features an asymmetrical analog stick layout. And it uses a similar D-pad design. Even the face buttons are recognizable, with the only difference being that it is BAXY instead of ABXY.
So, why should you buy the Nintendo Switch Pro controller? Well, it isn't just something purchased by contrarian hipsters who want to be different from the rest. It is actually good. The shoulder buttons feel smooth and the analog sticks are quite responsive with minimal dead zones. The one thing that makes me hesitant while recommending this controller for PC gaming is its limited support outside of Steam.
Steam recognizes it as an Xbox One controller and lets you remap functions, but if you own games outside of Steam you might have to spend some money on the 8Bitdo Wireless Bluetooth Adapter. You can also use it in wired mode with your PC through the included USB Type C to Type A charging cable. The Nintendo Switch Pro controller features HD rumble and has a gyroscope + accelerometer combo for motion tracking. 
Xbox 360 Controller
Charging: 2 AA batteries or a rechargeable NiMH battery pack which is part of the Play & Charge Kit. The wired version requires no charging.
Connectivity: 2.4GHz proprietary wireless protocol (you need the Wireless Gaming Receiver for connecting with Windows PCs), 2.5mm TRS connector for headsets, serial port for connecting accessories like the chat pad
Ergonomics and Size: The shape is quite comfortable and even though its grips are slightly stubbier compared to the DualShock controller, it places itself snugly between your palms.
Dimensions: 6.05" x 4.13" x 2.41" for the wireless version, and 5.98" x 4.21" x 2.13" for the wired version
Weight: 300g for the wired version and 265g for the wireless version
Build Quality: Good
Layout: Standard asymmetrical stick layout Xbox users are familiar with; the forward and back buttons are placed centrally on either side of the Xbox home button
Overview
Many of you reading this article grew up on Xbox 360, playing games like Gears of War and Halo 3. To you, the shape of this controller must be extremely familiar and even today it's considered an excellent PC gaming controller. That's even if you disregard the terrible D-pad, as well as the hard to reach start and back buttons.
Even back in the day, Sony had learned to use internal rechargeable batteries for its controllers while Microsoft stuck with removable AA batteries just like they do on the Xbox One. This has its merits and demerits. For one, it results in a potentially heavier and bulkier controller. Secondly, you have to constantly remove batteries when they run out of charge in the middle of a game.
But there is one noticeable merit- replacing a AA battery is much easier and cheaper than opening up the controller to remove the internal battery pack. Besides, it's much harder for the average customer to service a controller with a dead internal battery since finding a replacement for the said internal battery is a challenge in itself.
Anyways, how does the Xbox 360 controller stand up against more modern alternatives? It holds its own against most modern 1st party options, and the durable construction means that it can soldier on for another 5 or 6 years if you take proper care of it. You won't find any fancy features like back paddles or adjustable trigger locks, but it does its job well.
The triggers feel awesome, and the analog sticks are just fine. The asymmetrical thumbstick placement is loved by many since you feel less fatigued after a while. I suggest you get your hands on a wired version of this controller for a lag-free experience, and there's no need to hassle with battery changes. The wireless version requires a proprietary adapter.
Microsoft stopped production for the controller and its accessories a while back. So you'll either find secondhand stock or a rare one in a box that hasn't been opened by some collector. If you want the layout and feel of the Xbox 360 controller, but are scared of buying 2nd hand, check out 3rd party options.
There are plenty of 3rd party controllers that mimic the Xbox 360 design, and a lot of them can be had for pretty cheap. The Xbox 360 controller also supports XInput out of the box which means all PC games will instantly recognize it. Good lucking doing that with the DualShock 3, which was its competitor back in the day. 
Logitech F310
Charging: None, it is wired
Connectivity: USB 2.0
Ergonomics and Size: With smoothly curved rubberized grips and a sleek design, the F310 feels great in small to medium hands. Its lightweight nature makes it perfect for long gaming sessions.
Dimensions: N/A
Weight: N/A
Build Quality: Good
Layout: Symmetrical analog sticks at the bottom with ABXY face buttons
Overview
This is basically an F710, minus rumble feedback and wireless connectivity. As a result, it is lighter and cheaper. If you were to have only one controller for PC gaming and your budget is really tight, this is the one I would recommend. 
It uses the same DualShock 2 layout featured in the F710, with ABXY face buttons and an Xbox 360 style D-pad. The D-pad is equipped with 4 individual switches, one for each direction. This results in less accidental movement and more precision while playing platformers or fighting games. 
The domed analog sticks aren't too shabby either, even though they could be a bit more sensitive. The face buttons are mushy and have little tactile feedback, but you can't ask for too much from something this cheap. It supports XInput and DirectInput out of the box, so most PC games will recognize it instantly. 
Xbox One Elite Series 2 Wireless Controller
Charging: Compatible with the Plug & Play Charge Kit, internal lithium-ion rechargeable battery, charges from the carry case
Connectivity: 2.4Ghz proprietary Xbox Wireless protocol, Bluetooth, USB Type C, 3.5mm stereo jack
Ergonomics and Size: Very comfortable in your hands, customizable depending on your grips style and hand size, perfect for long gaming sessions. Slightly on the heavier side, so keep that in mind
Dimensions: Similar to the standard Xbox One controller
Weight: 348g (+/- 15g) depending on which attachments you're using
Build Quality: Excellent
Layout: Standard asymmetrical Xbox layout, with interchangeable D-pad, sticks, and detachable rear paddles
Overview
Designed for professional gamers, hardware enthusiasts, and people with deep wallets who aren't scared to spend some extra cash for the best of the best. The Xbox One Elite Series 2 controller is perhaps the best controller money can buy, and you are about to learn why.
First off, the build quality and overall feel of this controller tells you within minutes that it is a luxury product. In the back, there are four mounting points for paddles that are designed to help you execute complex actions without having to take your thumbs off the sticks. Talking of sticks, they are customizable too.
You get 6 magnetic analog thumbsticks that can snap in and out, no tools required. There are 2 short ones, two long ones, and two domed ones. The rear paddles are also hot-swappable, and you even get 2 different D-pads. A standard one that mirrors the original Xbox One controller design, and a concave multifaceted D-pad which feels more intuitive and precise for certain applications.
All of this comes with a hard plastic carry case which also doubles as a portable charging system for your controller. You can travel with your controller inside the case, and it will keep charging so when you take it out, it's ready for action. The ABXY buttons can be remapped. In fact, you can remap and customize pretty much every button, trigger, paddle, and stick on this controller.
You can tune the sensitivity of the triggers and sticks, set 3 different trigger lock positions (compared to just 2 on the original Elite model). It is also possible to swap left and right thumbstick inputs and do much more via the proprietary customization app for the Elite controller. You can map your buttons and trigger/ stick sensitivities, save it all to a profile, and name that profile depending on which game you're playing.
The Xbox One Elite controller can store up to 3 profiles onboard. Users of the original Elite controller complained about the lackluster thumbsticks, and Microsoft has made sure to fix that problem (all those RMAs must have sent a message). The new thumbsticks feel tighter, more precise, and reviews say they are a lot less likely to malfunction.
You also get 3 distinct stiffness settings for the new thumbsticks. Another improvement is the internal non-removable lithium-ion battery pack which lasts 40hrs on a single charge. You can also set the controller atop a little dock whenever it needs to recharge. All of the controls can be configured wirelessly via the Xbox Accessories app from your PC. 
The Steam Controller
Charging: Via micro USB, 2 removable AA batteries
Connectivity: Wired or Wireless, USB wireless receiver included
Ergonomics and Size: Once you get used to the dual opposing trackpads it feels just like any other controller, the grips are textured even though they feel a bit too short.
Dimensions: N/A
Weight: N/A
Build Quality: Okay
Layout: Unlike anything you've ever seen (dual opposed haptic trackpads and extremely tiny face buttons on the bottom right side with a single analog stick to the lower left)
Overview
Introduced alongside the now obsolete Steam Machines which intended to bring the PC into the living room. It is Valve's interpretation of how a controller should look and feel, certainly a bit different from the conventional controller design. The Steam controller feels like a weird lovechild of a keyboard and controller, with the D-pad and right analog stick replaced by 2 haptic touchpads.
Not exactly a reinvention of the wheel, but it aims to satisfy an itch that you simply can't with a regular controller or keyboard + mouse setup. It isn't the best choice for desk gaming since you might as well use a keyboard and mouse. And on the couch, you could just use a regular controller with your PC plugged into the TV.
But what if you're playing a game like Papers Please or Civilization on the couch? A lot of gamers absolutely hate the idea of mobile keyboard + mouse setups since they look goofy and force you to sit in an uncomfortable position. Yeah, the Corsair Lapdog and Razer Turret are decent for couch gaming, but what's the point if you have to sit upright and use a mouse even when on the couch?
The Steam Controller lets you sleep, sit sideways, upside down, or any way you want while playing the game of your choice. It works with any game that requires a traditional keyboard + mouse setup for an optimal experience. And if you are ever confused, you can browse through countless community-submitted profiles for the Steam Controller which are game-specific.
The touchpads are extremely precise and have great haptic feedback, so you know exactly when the game is registering your input. Playing shooters or racing games with this controller doesn't feel very intuitive, and many people claim it has a steep learning curve. The build quality isn't anything to speak of, and I don't know why Valve thought it was a good idea to put glossy plastic on the front of the grips.
And the XYAB buttons are placed in a weird spot. But once you get used to this controller, it can act as a viable replacement for your keyboard and mouse in certain games that don't have very good controller support. The paddle buttons on the back are a nice addition, and its cheap price means that you're less likely to regret your purchase.
Valve has stopped the production of Steam Controllers, with the last batch rolling out sometime in late 2019. Back then you could even find one of these for 5 dollars during the fire sale. It even has a built-in gyroscope that can be used in racing games and shooters if you don't like turning with the touchpads. 
Razer Wolverine Tournament Edition
Charging: None, it's wired
Connectivity: Micro USB, 3.5mm audio jack
Ergonomics and Size: Perfect for medium to large hands, similar design to the Xbox One Elite controller, great textured rubber grips
Dimensions: 106mm long x 155m wide x 66mm tall for the Tournament Edition, 106mm long x 156mm wide x 66mm tall for the Ultimate
Weight: 260g (without cable) for the Ultimate and 370g (without cable) for the Tournament Edition
Build Quality: Excellent
Layout: Asymmetrical analog sticks with rear paddles (2 on the TE and 4 on the Ultimate), it also has 2 additional bumpers
Overview
Razer's response to the Microsoft Xbox One Elite Wireless controller. The Wolverine Tournament Edition is pretty much everything you can ask for from a gaming controller packaged into an ergonomic form factor that feels natural and comfortable. If you go for the Wolverine Ultimate, you get additional remappable buttons and some extra paddles on the back.
The Ultimate is also a lot lighter at 260g without the cable, as opposed to the Tournament Edition which weighs 370g. Both the Tournament and Ultimate models come with two additional "Hyper response" bumpers which are located slightly below and inwards of the regular bumpers. You will notice that the ABXY face buttons on the Wolverine feel a lot more clicky compared to buttons on any other controller.
That's because Razer decided to bring some PC tech to the console sphere by using mechanical switches for each face button. As a result, they feel a lot more responsive and tactile with a very crisp and light activation point. The textured rubber grips feel amazing in the hand, and there is barely any creaking in the body no matter how hard you squeeze.
The Ultimate features a hot-swappable D-pad and thumbsticks. So if you want that, be prepared to shell out some extra cash. Both the Ultimate and Tournament Edition has extremely small dead zones on the analog sticks. Both have a hair-trigger mode which stops the trigger prematurely so you can get off multiple rapid shots in quick succession with very little reset time between each shot.
On the Ultimate, you can swap out the tilting D-pad for an individual button D-pad if you require extra precision. Using the Synapse app you can customize the RGB lighting and adjust sensitivities for triggers and analog sticks. You can also remap buttons, and switch between "agile" or "focus" mode on the sticks.
Agile bumps up the sensitivity for close-quarter encounters and focus drops it down low for sniping in games like PUBG. You can also disable vibration for the M1 and M2 (paddles on the rear). I think you should because the vibration on those paddles can be a bit too strong at times.
There is no wireless mode, so make sure you don't lose the included superlight braided micro USB cable. The Ultimate model also has a built-in audio controller and a quick control panel for on the fly mode switching and mic control. If you don't mind the price tag and lack of wireless connectivity, I say go for the Razer Wolverine.
PowerA Spectra Enhanced
Charging: None, only supports wired operation
Connectivity: Micro USB, 3.5mm stereo jack
Ergonomics and Size: Similar design to the actual Xbox One controller, it features a soft rubberized finish which feels pleasant in the hands
Dimensions: N/A
Weight: N/A (equivalent to the actual Xbox One controller, maybe slightly heavier)
Build Quality: Excellent for the price
Layout: Standard Xbox One layout with asymmetrical analog sticks and ABXY face buttons (Menu and View are in the same location as the Xbox One controller)
Overview
For those who want a similar experience to the official Xbox One controller, but on a budget. The PowerA Spectra Enhanced offers everything the actual Xbox One controller has, and more. It is a good 20 bucks cheaper too and offers more features. Like a 7-color LED lighting system which lights up both analog sticks, the face buttons, the D-pad, and even the edges of the controller.
It has two rumble motors and 3-way trigger locks for letting off single shots or bursts of rounds in quick succession when you're playing competitive shooters. Trigger locks are features you find only in premium controllers, and I am pleasantly surprised to see them on the PowerA Spectra Enhanced. It even has a soft rubberized finish that feels comfortable and helps maintain a solid grip at all times.
The controller has no wireless mode, but that shouldn't be an issue for people who want the best response times and don't want to mess around with charging batteries. PowerA includes a thick 9.8-foot braided cable with snap-lock and inline release so you don't yank your laptop off the desk by accident. Anti-friction rings on the thumbstick caps keep them from digging holes into your thumbs, and the finish stays on for longer.
While it doesn't have back paddles like the Elite controller, the Spectra Enhanced features two mappable buttons on the rear of the controller which you can activate with your middle fingers. 
8BitDo SN30 Pro+
Charging: Internal 1000mAh Li-Ion battery pack, takes 4 hours to charge and delivers 20 hours of playtime
Connectivity: USB Type C, Bluetooth 4.0
Ergonomics and Size: It is like a mix between the DualShock and SNES controller, your fingers have plenty of room to move around and the buttons are easy to reach
Dimensions: 153.6mm x 102.7mm x 64.3mm
Weight: 222g
Build Quality: One of the most robust and well-built 3rd party controllers you can buy
Layout: Retro-inspired, with symmetrical analog sticks and centrally mounted "select" + "start" buttons.
Overview
The most advanced retro-style controller ever from 8BitDo, the company which has made a name for itself by creating some of the highest quality retro-themed 3rd party controllers. The SN30 Pro+ is their first-ever full-size controller with grips for your hands, and it even has dual analog sticks like most modern controllers. The Sony PlayStation's DualShock controller pioneered modern controller design by introducing dual analog sticks and dual rumble motors, this was way back in the 90s.
The SN30 Pro+ is inspired by that design but introduces several improvements for the modern age. Like fully remappable buttons and adjustable sensitivity for the analog sticks. You can also adjust the minimum and maximum trigger ranges to get a more relaxed or hair-trigger like response depending on the game you're playing.
Even the rumble motor vibration intensity can be increased or lowered. It is possible to create and save custom profiles for various games. And as if that weren't enough, you can assign long and complex macros to a single button. This macro feature comes in handy for fighting games (pretty sure they don't allow it in competitive gaming, however). It works on Windows PCs, Android devices, macOS, Nintendo Switch, and even the Raspberry Pi. 
What truly makes the 8BitDo SN30 Pro+ stand out isn't just its looks, but its feel. Every button, every press of the D-pad feels exactly like it would on a controller from back in the day. It sort of feels like the 90s all over again (like the best parts of the 90s mixed with the best of today). What's amazing is that even though this controller has rumble feedback, a sizeable internal battery, and a 6-axis motion sensor, it weighs just 222 grams.
Logitech F710
Charging: Two removable AA batteries
Connectivity: 2.4Ghz wireless (nano- receiver included)
Ergonomics and Size: It feels comfortable in the hands, thanks to rubberized grips and a classic button layout. The controller is a bit on the heavier side, so keep that in mind.
Dimensions: 3" tall, 5.6" wide, and 3.9" deep
Weight: 10.1 ounces, or 285 grams
Build Quality: Excellent, the F710 can certainly survive a bit of abuse from hardcore players during heated gaming sessions.
Layout: Symmetrical stick layout at the bottom, similar to a PlayStation DualShock controller, with XYAB buttons and a D-pad lifted straight from Xbox 360 style controllers. 
Overview
Slightly old-school, the F710's design reminds you of DualShock 2 controllers because that's what the creators were aiming for. It feels heavy and is built like a tank, so you can toss it around without fearing that something might break down. The convex tops on the sticks tend to get slippery after a few hours of gaming, especially if you have sweaty hands like me.
There is no adjustable stick response like you'd find on high-end controllers these days, but for casual PC gamers, it is more than fine. The analog sticks feel responsive and are quite accurate, but I certainly don't recommend playing shooters like Fortnite or Call of Duty with this controller. Especially if you are serious about ranks and competitive matchmaking.
The only connectivity mode offered is 2.4Ghz wireless, so you can't hook up a micro USB cable for wired gaming when you feel like you would prefer a little less latency. On games like Shadow of The Tomb Raider where latency isn't as noticeable, you will get by just fine. But plug in a Wi-Fi router next to the micro receiver, and you'll start noticing interference with the wireless communications.
At distances over 2 meters, it becomes quite apparent that there is a bit of delay between you pressing the button, and the action registering on screen. Worth noting if you are into fighting games since reflexes and response times are super important in those. Logitech also provides a range extender cable for your micro receiver, so you can get the wireless experience from farther away. Or, you can use it to reduce lag.
Unlike cheaper controllers that have a single pivot point for the D-pad, the F710 uses 4 individual switches- one for each direction. This results in a higher degree of precision and improved responsiveness. The controller is a bit heavier than most since it uses removable AA batteries. There is a little compartment in the battery bay where you can store your nano-receiver.
And I highly recommend you use that storage space because the nano-receiver is so small that you could easily lose it (especially while traveling). You won't find any fancy features on this controller like RGB lighting or removable switches/ D-pads. But it does the job of a no-frills, durable, wireless PC controller very well. You don't have to fiddle around with drivers since it supports the two main input standards for PC controllers- XInput and DirectInput.
Oh, and it also features dual rumble motors so you can take full advantage of those in supported games to feel every hit, explosion, and crash. Logitech advertises this controller as compatible with Steam's Big Picture mode, so you can use it to play games, browse the web, enjoy music, etc.
Finally, the F710 has a really long battery life (some people have reported up to 200 hours or 2+ weeks of heavy gaming). Logitech is kind enough to include a pair of batteries (non-rechargeable) alongside the controller.
Astro C40 TR
Charging: Rechargeable Lithium-Ion internal battery
Connectivity: 2.4Ghz wireless, Micro USB, 3.5mm stereo jack
Ergonomics and Size: Ideal for medium to large-sized hands, the grips might look a bit too short on first sight but they actually fit into your hands perfectly. 
Dimensions: 168mm (length) x 108mm (width) x 53mm (height)
Weight: 310g
Build Quality: Excellent, uses durable plastics and a soft rubber coating that doesn't peel off even after months of heavy usage
Layout: Customizable, you can set it up like an Xbox One controller or DualShock 4 depending on your personal preference
Overview
Simple the most customizable controller in existence. Most other high-end controllers limit customization to button remapping and sensitivity tuning. But the Astro C40 TR takes things one step further by introducing physical customization in the form of D-pad and thumbstick swapping.
You can actually swap the position of the D-pad and thumbstick on this controller to transform it from a symmetrical layout (like PlayStation DualShock) to an asymmetrical layout (like Xbox). The one thing that can't be swapped is the face buttons. The Astro C40 TR also has 6 different analog stick caps which are hot-swappable.
You get 1 tall concave cap, 1 tall domed cap,2 standard length concave caps, and 2 standard length domed caps. There are two different D-pad modules as well. You've got the regular 4-way pad, and you can swap it out with a concave circular pad. This is to the PS4 what the Elite controller is to the Xbox.
The C40 TR even has a touchpad like the DualShock 4, along with Share and Options buttons on both sides of the pad. Of course, all these are customizable via software. You can remap buttons, and change trigger/ stick sensitivity. There are also a couple of paddles on the rear.
Oh, did I forget to mention that this controller has its own built-in audio equalizer? Yep, and you can even tweak the EQ settings using the Astro configuration software. It can function in both wired and wireless modes, and Astro has created this controller specifically for hardcore gamers and tournament players. 
SteelSeries Stratus Duo
Charging: Internal lithium-ion battery with 20+ hours of backup
Connectivity: Micro USB, 3.5mm stereo jack, 2.4Ghz wireless for PC, Bluetooth for Android and iOS devices (2.4Ghz receiver included)
Ergonomics and Size: Design is similar to that of an Xbox One controller, with some Nintendo Switch Pro controller elements mixed in. Feels great in small to medium hands.
Dimensions: 5.91" (width) x 4.33" (height) x 2.49" (depth)
Weight: 245g
Build Quality: Great
Layout: Symmetrical analog sticks similar to what you'd find on a PlayStation controller, but it also has ABXY buttons and a start/ home/ back central button setup similar to that of the Xbox 360 controller
Overview
This is the jack of all trades, it supports PC, mobile, and VR. SteelSeries claims it is compatible with the Oculus Go and Samsung Gear VR systems via Bluetooth (or you can use the USB wireless adapter). This controller is fully supported by Steam, and it has a very familiar button layout which seems like a mish-mash of Xbox and PlayStation.
The concave D-pad feels comfortable after long gaming sessions and the triggers have a ledge underneath. This ledge means they don't accidentally bump into your desk and mess up your movie playback (take notes Sony). There is a nice quad-LED player number indicator on the top, right beneath the SteelSeries logo.
An all-black matte finish makes this controller feel and look professional. There are no flashy RGB LED lights or glossy components (other than the ABXY and central buttons). You can switch between Bluetooth and 2.4Ghz wireless on the fly, by using a toggle switch next to the micro USB port.
The grips feel amazing and have this soft rubberized texture which sits nicely in your palm. You can buy an optional phone clip for the controller (which is an additional 10 bucks). Battery life is 20hrs in 2.4Ghz wireless mode and 8hrs in Bluetooth mode. The triggers use Hall effect sensors so there is a smooth, linearly increasing actuation force from top to bottom and the analog response is extremely accurate. This controller's biggest issue is its lack of haptic feedback since there is no rumble.
Thrustmaster eSwap Pro
Charging: None
Connectivity: Wired via micro USB, 3.5mm audio jack
Ergonomics and Size: Slightly larger than a DualShock 4, it isn't very aesthetically pleasing. But the grip is perfect for those with medium to large hands, and you can even swap out the sides of the handles.
Dimensions: N/A
Weight: N/A (definitely a lot heavier than the standard DualShock 4 controller)
Build Quality: Premium, except for the silver hot-swappable module
Layout: Completely customizable
Overview
A controller designed for pros who play on PlayStation, but much prefer the shoulder button and trigger layout of the Xbox One controllers. It features hot-swappable modules that let you change out the analog sticks and D-pads depending on your preferences. You can even remove the right analog stick entirely and replace it with extra face buttons if you want.
The triggers can also be swapped out, and there are 4 remappable buttons on the back. The face buttons and D-pad feature clicky mechanical switches underneath for that loud mouse-like click and tactile feedback. Haptic feedback is generated by rumble motors, you can tune their intensity in software.
Trigger and analog stick dead zones/ sensitivity can also be tweaked, and you can remap any button to whichever control you like. Extended triggers are included within the box for people who often find their fingers slipping off the default triggers. The shoulder buttons are broken up into 2 sections, and you get a touchpad like on the PS4 controller. Even the side grips can be swapped out. 
You can install rubberized grips with a rough texture or smooth rubber grips. Thrustmaster includes a tool within the box to help you swap out some of the components. The travel distance for the analog triggers can be modified, and you can store up to two different gaming profiles within the controller.
 Does this controller have any weaknesses? Yes, like any other product out there it isn't perfect. First, the rear buttons should have been replaced with paddles as they are too hard to reach (especially for those with smaller hands). Secondly, the hot-swappable modules don't feel all that sturdy despite this being a premium controller as is evident from its massive price tag.
Finally, the lack of a wireless connectivity option really hurts casual users and couch gamers. It tries to accomplish the same thing as the Xbox One Elite wireless controller but does a poorer job overall. I definitely prefer the clicky feel of the face buttons and D-pad on the Thrustmaster over that of the Xbox controller.
But other things are holding this controller back from being truly awesome. Unless you really need the hot-swappable modules and the ability to have up to 6 buttons on the front, I suggest you get the Xbox One Elite Series 2 controller instead.
Charging: None
Connectivity: USB Type A
Ergonomics and Size: It isn't the most comfortable shape for long hours of gaming, and the original SEGA Genesis gamepad was designed before gaming controller design was revolutionized by the PlayStation's DualShock. But hey, who cares about ergonomics when you are after that authentic retro vibe?
Dimensions: N/A
Weight: N/A
Build Quality: Identical grade to the original SEGA Genesis gamepad and those things were built tough
Layout: If you are after a retro feel, nothing beats the classic 6 button layout (X, Y, Z on top, A, B, C on bottom). It has L/R shoulder buttons for added customizability and more flexibility in modern titles.
Overview
This one is for all the retro gamers out there who are emulating classic console titles on their PC or Raspberry Pi. It looks and feels almost identical to the original SEGA Genesis gamepad which was released back in 1989 for the 16-bit console. It is officially licensed by SEGA and is compatible with Windows PCs, macOS, Steam, and the SEGA Genesis Mini.
The Retro-Bit SEGA Genesis gamepad comes with a 10-foot USB cable and boasts the classic 6-button layout (with a repositioned mode button). Ideal for fighter games and platformers of the era. You should use this bad boy to play classics such as Comix Zone, Streets of Rage 2, Sonic the Hedgehog 2, Street Fighter 2, etc.
Overall, the buttons feel responsive and the actuation force/ button stiffness is on point. Thanks to the USB interface, there is virtually no input lag. It works out of the box on PC, without requiring you to install any 3rd party software.
Conclusion
Choose the right controller for yourself, everyone has their own preferences. One controller might be perfect for someone else, but not ideal for your needs. For instance, players who are into fighting games might prefer the Thrustmaster eSwap Pro over the Xbox One Elite Series 2 controller. Even though the latter has wireless connectivity and better overall build quality.
That's because fighting games benefit from lower input lag (wired > wireless in that aspect). And the additional face buttons on the Thrustmaster eSwap Pro come in handy for executing complex moves faster. Someone on a budget might choose the F310 over the Xbox One controller even though it has fewer features.
If you play on both phone and PC, the SteelSeries Stratus Duo makes a lot more sense compared to anything else on the list. The type of games you play, the platform you play them on, how often you play them, all these are crucial factors in deciding which controller is the best for you. Look up videos of people using the controller before you decide to make a purchase, and make sure to read online reviews on sites like Amazon.
If you found this article useful, you may want to save this pin below to your Gaming board.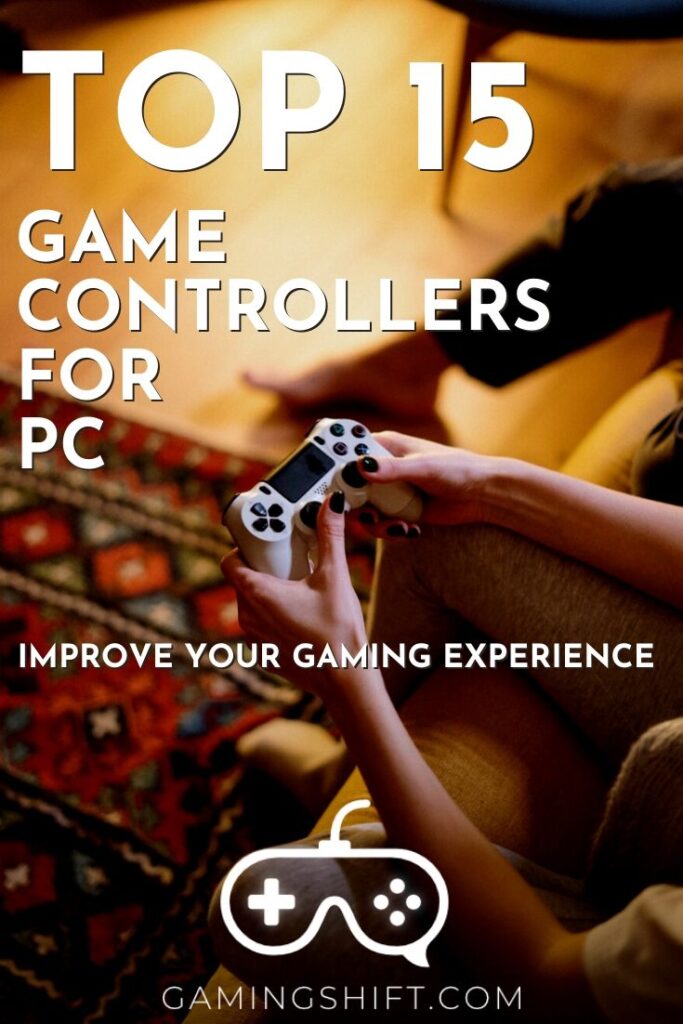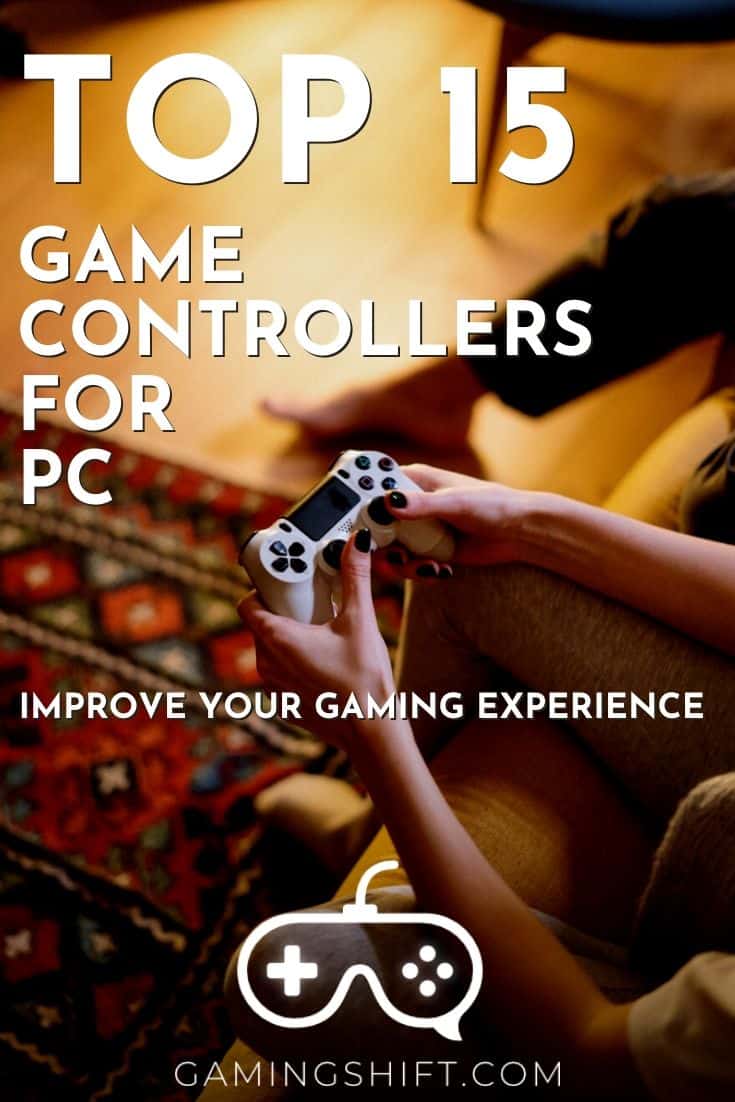 Last update on 2023-11-21 / Affiliate links / Images from Amazon Product Advertising API