If you're new to the concept of purchasing games online, Humble Bundle is a really nice place for you to start. And if you're already invested in purchasing digital copies of your games like most of the gaming population these days, Humble Bundle offers great value. 
Basically, it's a digital storefront where you can buy "bundles" at discounted prices that contain everything from video games (old and new) to comics and even educational books/ software.
So, is Humble Bundle legit & worth it? Yes, it is legit. It has been around since 2010, with a proven track record that can be verified from hundreds of thousands of subscribers and dozens of independent reviewers. As for whether it's worth it, I absolutely think it is. As an active monthly subscriber on Humble Bundle Choice ever since November 2015 I definitely get the money's worth and help charity on the way!
Even if there are certain games in the bundle that don't interest you, there is almost always a big AAA or AA title in there. This headline title is often accompanied by some older games/ less popular AAA games (which are still very enjoyable), and a well-curated collection of indies.
What Is Humble Bundle All About?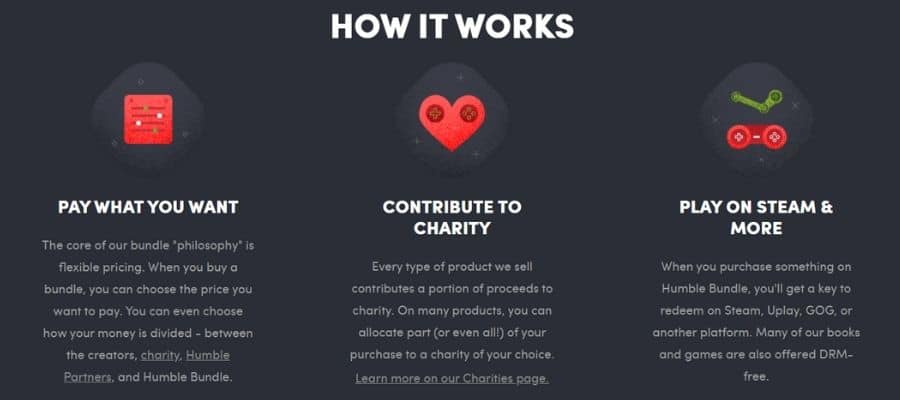 Most digital storefronts are pretty standardized in how they operate. You go on there, look for some game you like, check out the price, and make the purchase. But Humble Bundle is more of a "pay as you like" store where you decide what price you want to pay. And you don't get to choose the exact game, rather you purchase a bundle of 6 or more games for an extremely subsidized price.
In the starting days of Humble Bundle, these bundles primarily consisted of multi-platform indie titles for Windows, Mac, and Linux. Humble Bundle also made a name for itself by offering DRM-free versions of games, which it still does. This basically means you download the game and play it like the good old days. No intrusive digital rights management software hogging your precious CPU resources while also prompting mandatory sign-ins and cloud saves.
Eventually, Humble Bundle started including AAA titles such as Tomb Raider, Civilization VI, Arma 3, DayZ, etc. in their bundles. And the Humble Bundle storefront was expanded to also include things like comics, manga, eBooks, etc (also sold in bundles like the games). 
Why You Should Choose Humble Bundle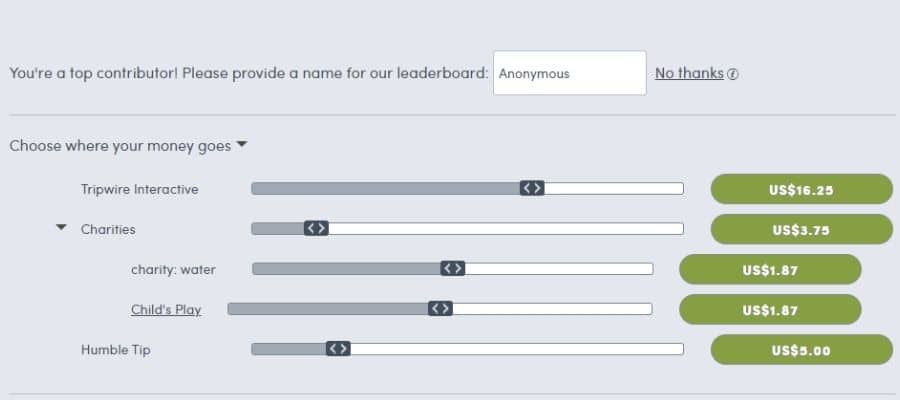 Apart from the "pay what you want" model, Humble Bundle has another excellent benefit- you get to decide exactly how much of your money goes to who. How much goes to the publishers, how much goes to the storefront, developers, etc. And on top of all that, a portion of every sale is donated to charity. To this date, they have donated over 185 million to charity orgs all around the world.
If all that isn't enough to sway your mind, may I remind you that they also offer DRM-free versions of popular games. And you even get a version for each available OS if you purchase cross-platform games. The Humble store might just be the most pro-consumer digital storefront there is, alongside Steam and GOG.
Just like Steam, they have offers all year round on the games in their store. And being a subscriber to the Humble Choice subscription also gets you a flat discount between 10 to 20 percent (depending on your subscription tier) on games in the store.
Can Humble Bundle Be Trusted? Do They Really Donate?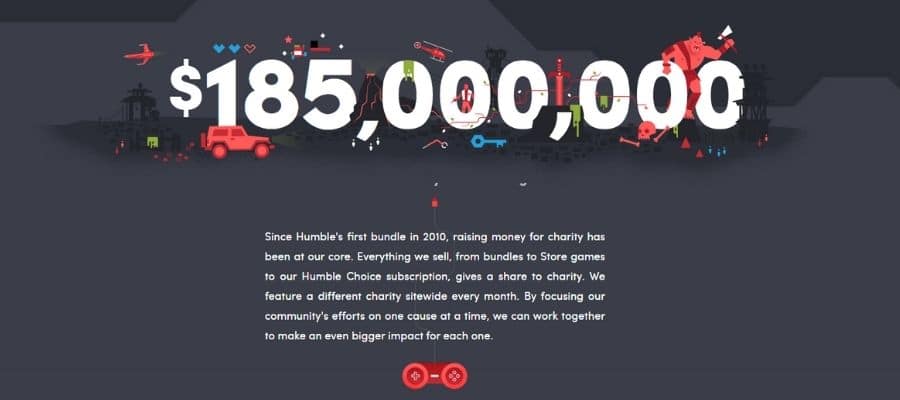 Yes, they can be trusted. It all started in 2010 with very humble (get it?) beginnings and has now expanded into a massive digital storefront that rivals services such as GoG, Steam, Origin, etc. Currently, they are headquartered in San Francisco, California with over 60 employees as stated in this article from 2017. It isn't some shady 2-bit org that sells pirated keys and steals your credit card info.
The product keys are sourced straight from the publishers and are 100% guaranteed to be legit. Just like purchasing from any other storefront such as Steam or Origin. Bundles are super cheap, and you are free to pay any amount you want as long as it's above the minimum. Plus, you are free to pause or cancel your subscription at any time if you don't like a certain bundle or already own the games.
Yes, they do donate to charity. They have donated over 185 million dollars to charity since their inception. Certain bundles allow you to choose which charity you want to give money to, through the PayPal Giving Fund. You can choose from a database of over 35,000 participating organizations, filtering by country and category.  
So you can get a bunch of good games for cheap, and you also help hungry kids around the world. What's not to like here? If you still aren't convinced, read dozens of testimonials from satisfied customers and lookup independent reviewers who have tried the service for themselves. I for one can assure you that you won't be disappointed.
How Is Humble Bundle So Cheap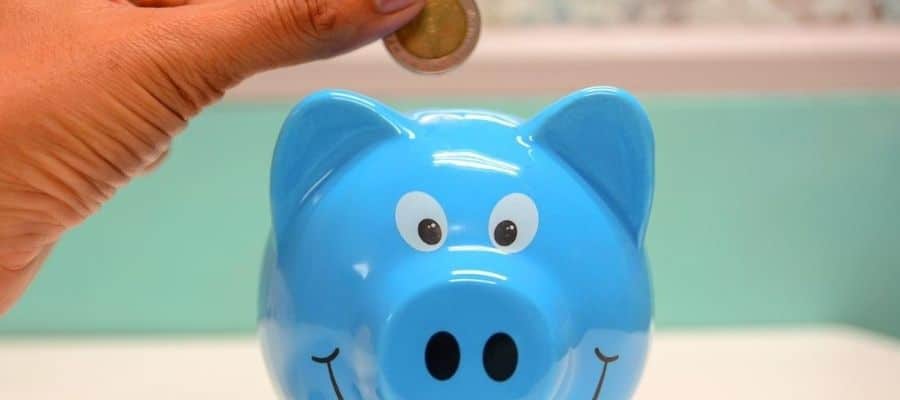 Often, you'll see Humble Bundle talk about how they offer you a game bundle that's worth 200 dollars or more, at just 15 or 20 bucks. So how do they do it? First off, this quoted worth is very misleading. Some games are older, which means the publisher is willing to sell it for a brief time period at drastically lower prices compared to its price on the release date. This will drum up some popularity and bring fresh players to the otherwise old game.
Most people in the target audience have likely brought the game at that point. Since it is a digital distribution, the publisher doesn't have to actually expend anything if they want to sell more copies. Then, there's volume sales agreements that Humble Bundle signs with publishers- in exchange for guaranteeing that a certain minimum number of copies will be sold, Humble is allowed to sell the game at reduced prices.
Finally, reduced prices on games serve as a means of generating user trust and goodwill in the minds of potential buyers for upcoming games. Humble Bundle's pricing model is also very innovative. 
Video games are a medium with subjective value, meaning for one person Shadow of the Tomb Raider might not be worth any more than 20 bucks. For another who is a fan of the genre or series, it might be worth a lot more.
It also ensures that people don't have to wait for price drops to make their purchase decision. And what publisher can pass up the PR potential of simultaneously lowering prices and donating to charity?
What Kind Of Bundles Can You Find On Humble Bundle?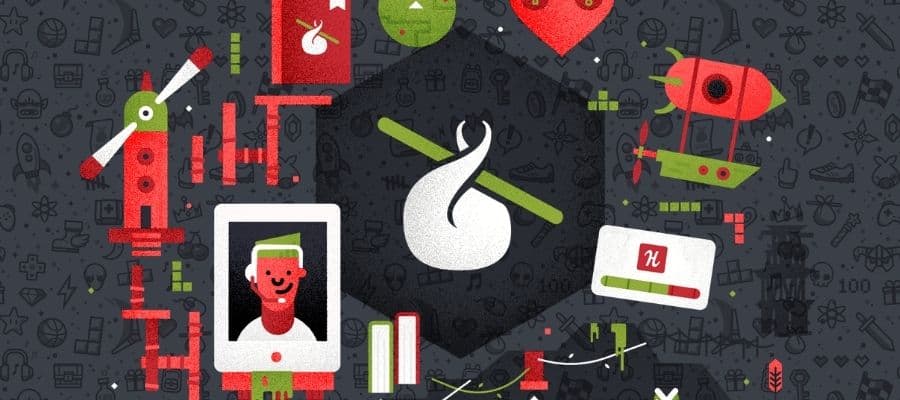 The main selling point of Humble Bundle is of course the game bundles you get every month, which changes. Curators at Humble take their picks from a wide library of games, balancing genres so there is something for everyone. Don't like fighters? They've got platformers. Don't like shooters? They've got RPGs and racing games.
They have a simple formula for bundles- one AAA (could be new or old), some AA games or high budget indies, and the rest is either DLC or low budget indies. And for regular bundles that aren't part of the monthly subscription, you can get multiple games for as little as 1 dollar. This is based on the flexible pricing model where you pay what you want.
As long as you pay above the average price, you get access to all games. And by paying a certain amount above the average you unlock new games. Plus, you get to choose how your money is distributed by distributing the money between publisher, charity, and Humble.
Is Humble Bundle Exclusive To PC?
You'll find multi-platform games on Humble Bundle, which can be played on Linux or Mac alongside Windows. Sometimes they will have console bundles, although those are extremely rare. There used to be Android gaming bundles, but those have all but stopped. The monthly game selection is all PC games, so if you're subscribed to Humble Choice you'll need to have a PC for those games.
How Does Humble Choice Work?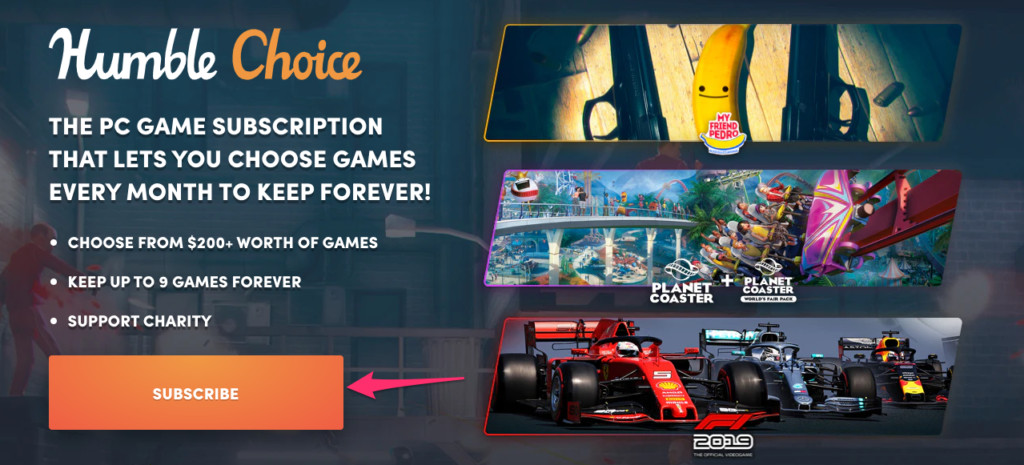 Simply put, this is a 3-tiered monthly subscription that gives you game bundles, coupons, and benefits within the Humble game store. The main selling point of Humble Choice is of course the game bundles you get every month, which changes. Curators at Humble take their picks from a wide library of games, balancing genres so there is something for everyone.
Don't like fighters? They've got platformers. Don't like shooters? They've got RPGs and racing games. Want some single-player story-driven action? There are excellent AAA titles such as GRID, Tomb Raider, XCOM, Hitman, F1, Shadow of War, etc. And some really amazing AAs + indies, such as Hellblade, Vampyr, Planet Coaster, Slay The Spire, My Friend Pedro, etc.
Humble Choice used to be called Humble Monthly until December of 2019, and it used to be a fixed 12-dollars for everyone. Humble Monthly gave 10 games, and it followed the same formula as now- 1 big AAA, combined with some indies/ DLC. Now, you have 3 tiers to choose from- Lite, Basic, and Premium.
Which Tier To Get?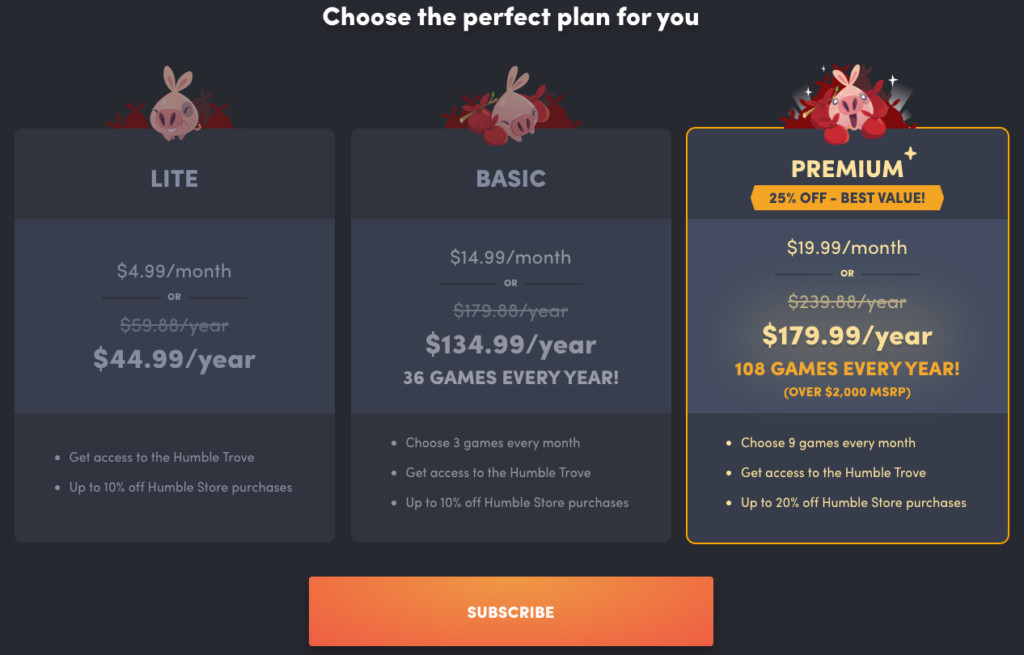 Lite – you pay $4.99, get access to the Humble Trove, and 10% off on Humble Store purchase.
Basic – you pay $14.99, everything that Lite offers, and can choose 3 games out of the curated monthly selection
Premium –  you pay $19.99, get access to the Humble Trove, 20% on Humble Store purchases, and most importantly- you can choose 9 games per month
In my opinion, the Lite and Basic plans aren't worth it at all. If you subscribe to Humble Choice, go for the Premium tier. The Lite tier doesn't even offer any games, you just get access to Humble Trove which is a collection of 90+ DRM free games. This mostly consists of free games, low budget indies, older titles, etc.
You can easily get more value for money if you just go with regular Humble bundles that are introduced every couple of weeks. Even the Basic tier doesn't offer that much, you can pay 5 dollars more and get 3 times as many games if you go for Premium.
People who were existing Humble Monthly subscribers at the time Humble Choice was introduced get to keep their old subscription model that gives 10 games for 12 bucks. The new 3-tier system is the only way for new users to access Humble Choice.
Alternatives To Humble Bundle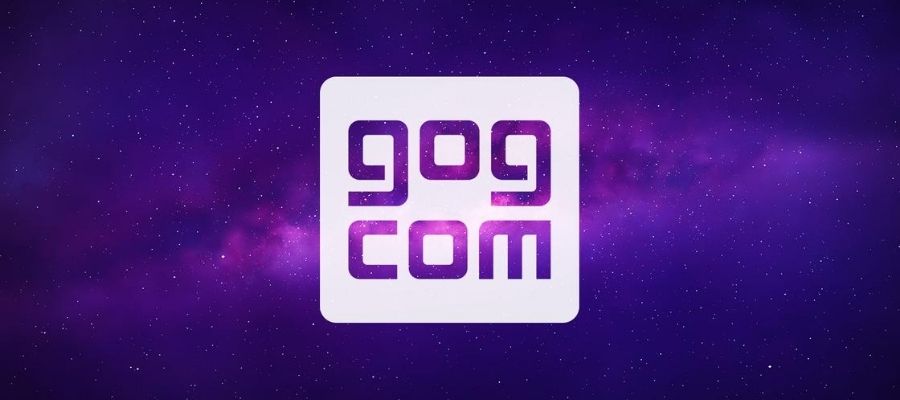 There's Steam, which doesn't have DRM-free options like Humble Bundle, nor does it donate to charity. But in terms of discounts and special offers, Steam has most PC storefronts beat. Very rarely are you going to find a storefront that offers bigger discounts on popular titles. There's a reason their sales are talked about weeks before the event across the entire gaming community worldwide.
Plus, Steam has a massive library of games that is larger than any other digital storefront. Then there is GOG, which is another massive proponent of DRM-free gaming. You'll find a curated selection of games for all ages spanning various genres, from classics released during the 90s to modern AAA masterpieces.
One of the best parts about GOG is the fact that they meticulously test older titles and update them with patches/ bug fixes. This ensures that they run flawlessly on your modern hardware and OS. This is something that you won't find on any other digital Storefront since they rely on the publishers and developers to keep the game updated.
GOG is all about providing you with permanent ownership of any game you purchase, and they have an excellent refund policy wherein you can get your money back if the game doesn't work. You can also cancel preorders and return any game in development within 30 days of purchase. Their customer support is also miles ahead of what you'll get on Steam.
Conclusion
In summary, Humble Bundle is one of the best value for money services in the entire gaming industry. You can spend a couple of bucks and get some really good indie games that would otherwise go unappreciated, and simultaneously donate to charity. Or, you can subscribe to Humble Choice and get a AAA game, DLC, older AAAs, AAs, and high-quality indies.
I have been using their service for close to 5 years now, and they have never disappointed. If you somehow see a bundle that contains games you've already played/ aren't interested in, you can simply pause your subscription. In case you do cancel your subscription, you still get to keep your games. Plus, Humble Bundle makes it really easy for you to gift games to your friends.
If you found this article useful, you may want to save this pin below to your Gaming board.