The gaming industry is well aware of the fact and has accepted that Nintendo will almost never lower their game prices. Even if every other game studio in the market lower their prices when the demands come down drastically or when the market is too saturated. These market factors seem to have no impact at all on Nintendo. Not only that it almost never drops their prices, but their prices are also way higher than the other game developers for their consoles, like Nintendo switch.
So why do the Nintendo games remain so expensive? Nintendo is known for things that make it stand out from the rest. A lot goes into the research, development, and innovation of these games. For many years they have been able to maintain consistency with the overall quality of their products and have been dominating the video game industry. Not to mention protection from piracy and the difference in hardware which costs more than the other consoles.
Despite all the new technology, making games for their platform never been easier than now. However, Nintendo still chooses to protect its own games and platforms unruffled.
6 Reasons Why Nintendo Games Stay In Thier Release Price For Years.
By now you might have got a rough idea that Nintendo has been a major player in the videogame market space. Their legacy of producing top-class gaming consoles dates back to as early as 1983 when they launched their first gaming console in Japan. In America, they came in the year 1985 and entered Europe in 1986 and 1987. And they continue to be the leaders in what they make. So what makes them different? Let's look at some of the distinguishing factors that distinguish this company from the rest of the lot.
Top Quality And Polished Games
Nintendo ever since its first game has been successfully able to maintain the quality of its games. You can rest assured that if it's the game by Nintendo it will soon turn out to be a classic. They have pretty much managed to stay firm and upright and consistent with their quality. You will rarely find a Nintendo game is not good. And all games in the Nintendo Switch console promise to deliver the quality and fun that Nintendo is known for.
Constant Innovation
Nintendo is known for its tireless efforts in the research and innovation although they are already doing extremely well in the gaming industry. They invest heavily in all their innovation endeavors and as a result, they always deliver the best. With every new version of an existing game or console, you always see an improvement, you always find refinements. Though the entire process of innovation is full of trials and errors with some hits and misses, the very essence of continuous R&D and innovation is the well-known secret of its sustained growth and high prices free from the factors such as demand and supply that control any market.
Exclusive Games
Irrespective of the prices, gaming buffs who have played even once on the platform would always look forward to buying the Nintendo consoles to play those exclusively games by Nintendo. According to Polygon game media, around 60% of the owners of a Nintendo Switch have at least one exclusive Nintendo Switch game which is Mario, Mario cart or Zelda. Similarly, there are other games such as Pokémon and the Super Smash Bros that are desired by all no matter when they came in the market. The brand Nintendo has that impact that the interest the desires and the demand for its games never go down. So if the demand never goes down, the prices should not go down either.
High Cost of Production
Let's take the Nintendo switch for example, but this concept is applied to all Nintendo consoles. The hardware that forms the Nintendo Switch console is not made the way other consoles are made. While the Xboxes and the PlayStations use Blu-ray discs with a capacity of up to 50 gigabytes, the Nintendo Switch, and the 3DS use cards or cartridges of up 8 or 32 Gigabytes. The 6Gb cartridges cost the same as 50GB Blu-ray disc and the 32GB costs 60% more than a 50 Blu-ray disc. This means that if the game weights more then 8 GB then it will increase the cost of productions. 
A Rich Legacy of Trust and Excellence
Nintendo has been dominating the gaming industry for almost three decades. It has been successful in creating some iconic characters for a whole generation of die-hard fans of the brand. For instance, Mario is one character that many of us know, even if you are not a fan. It has been a household name ever since it came into existence. Many of us have grown up playing these amazing games and there is that element of nostalgia that makes Nintendo even more special in terms of a preferred choice. Apart from that, the Brand is a factor too and Nintendo is one of the more trusted gaming console brands. So with all that value that they offer, they are well poised without any price drops.
Prevents Piracy
Nintendo always tries to bring its games in a different format than the others. The fact that their switch games do not come in Blu-ray or other discs but rather a cartridge ensures that it will be very hard to create pirated copies of the original games. That way you can rest assure that you will always get the original Nintendo Switch game cartridge in your hands. Every gamer would happily pay for the original Nintendo Game rather than a copy. 
How To Save Money On Nintendo Games?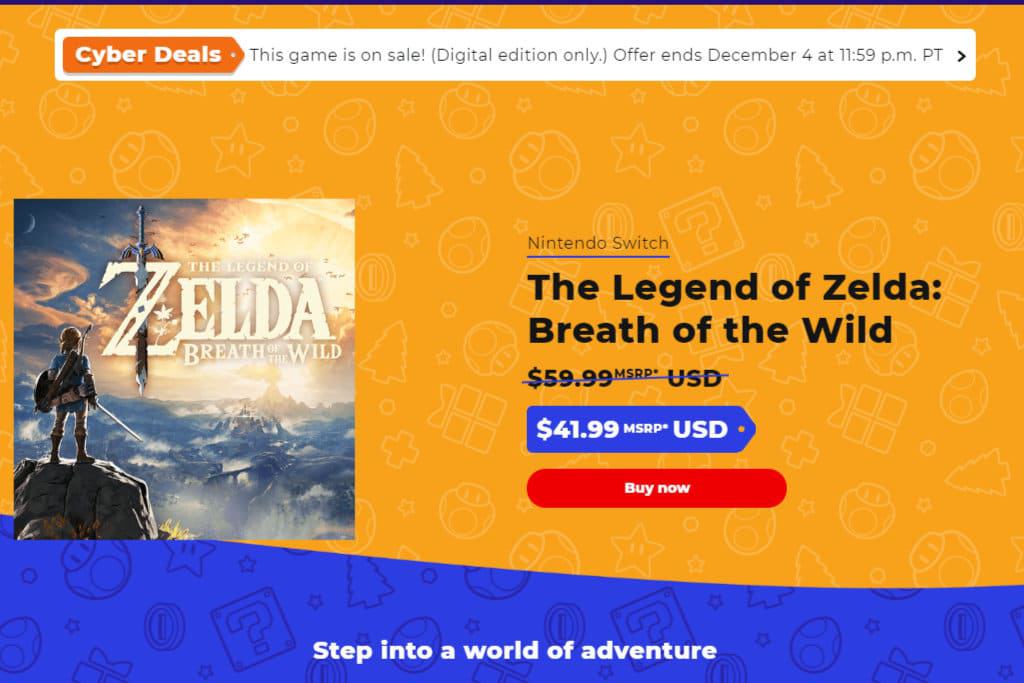 Well, there aren't too many ways to save some money but here are a few quick tips that may come handy:
Traditional Sales Event –  Check Nintendo online shop or local retailer for sales on Black Friday, Cyber Monday, Christmas and other Sale events that go throughout the year. Although it may not be the case for every type of Nintendo game. But some of them may be on sale.
Use Your Nintendo Points – Every time you buy a Nintendo game your Nintendo account is credited with some points. They aren't worth too much and they expire pretty quickly. But that's kind of free money that you can use to redeem against your subsequent game purchases.
Try Reselling Or Buying Second Hand  – If you have physical copies and you hardly ever get back to them, you might consider selling them. Nintendo games have a great resale value even if they are a couple of years old and the proceeds can be used to buy the new or second game Nintendo games you wish to play.
Store Clearing The Stock – Even though Nintendo may rarely put its games on sale, some retailers might just put up a sale maybe because they want to clear out the stock, or wrapping up their business or maybe as promotion gimmicks. So keep an eagle eye on such possibilities and grab any such discounts, sales or coupons whenever you see one.
Conclusion
So with all the factors in mind and everything that Nintendo as a company does to create value, we can perhaps say that Nintendo creates timeless games that never ever run out of fashion. It provides an unmatched gaming experience to its players and loyalists and has never failed to disappoint its huge fan base across the globe. And some of the older generations who have grown up playing Nintendo games find it hard to give up even if it costs a bomb. It exists at the very core of many.
So their games are like timeless classics in the world of gaming and classics always stay relevant irrespective of the time and the age they have been created. They never get old. They never lose value. And that is exactly why you will never see a drop in the price of a "Classic" Nintendo game.