Sometimes you just want to unwind after a long day of work and sit back with some classic games from your childhood. And if like me you grew up playing games in the 90s, chances are quite a few of these were running on DOS. Unfortunately, ever since Microsoft released Windows, they discontinued official support for DOS.
However, a dedicated group of programmers and DOS enthusiasts have kept this ancient OS alive. Especially for DOS gamers, who have several options ranging from emulators to specialized websites that let you play DOS games for free within your browser. The latter is what I'll be looking at today.
Here's a list of the top 30 sites to play DOS games online for free in your browser. You have no need for emulators or virtual machines; you have to open up Chrome or Firefox, and you're good to go. Yeah, the game library on some of these sites isn't huge, but that's a price many are willing to pay in exchange for convenience.
Internet Archive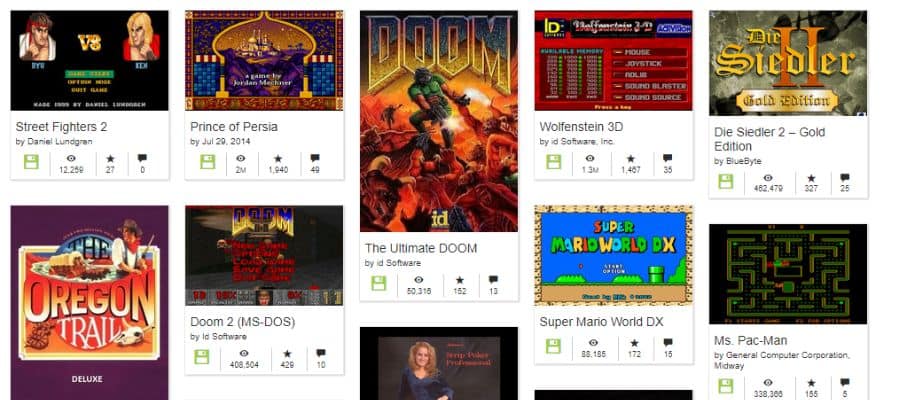 This is probably the most popular site for playing old classics, and MS-DOS games are just a tiny fraction of the Archive's true content base. You'll find everything from books and music to movies (even software) here. This is basically a giant digital library established in 1996 to preserve the Internet itself.
And how exactly do these guys manage to run DOS games within a browser? With EM-DOSBox- a DOS emulator that runs within your browser. It all works thanks to Emscripten, a compiler that converts C/C++ source code into WebAssembly or JavaScript. 
Playclassic.games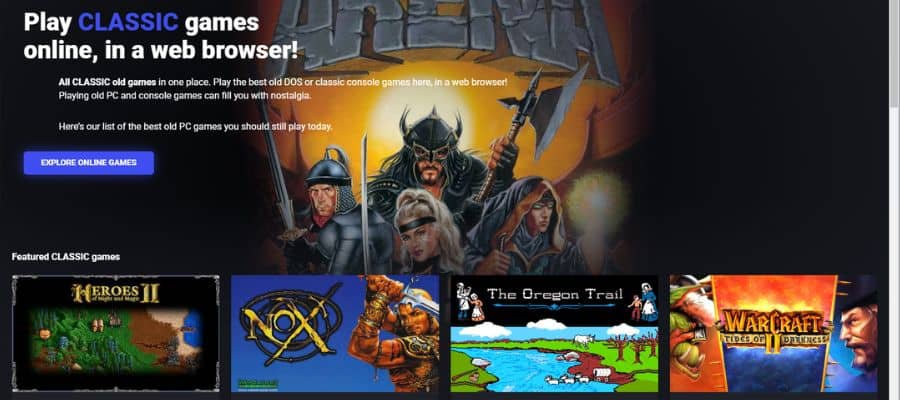 Playclassic is a site that all retro gaming fans should definitely check out. Here, you'll find Atari 2600 classics, old Windows games, browser games, and DOS games. Its DOS library isn't as expansive as the one on Internet Archive, but it will keep most gamers busy for months.
The UI is extremely clean and easy to navigate. Clearly segmented categories make it easy for people to browse through the games collection. Just within the DOS category, there are various subsets such as 4X strategy, action-adventure, beat 'em up, city-building, etc.  
ClassicReload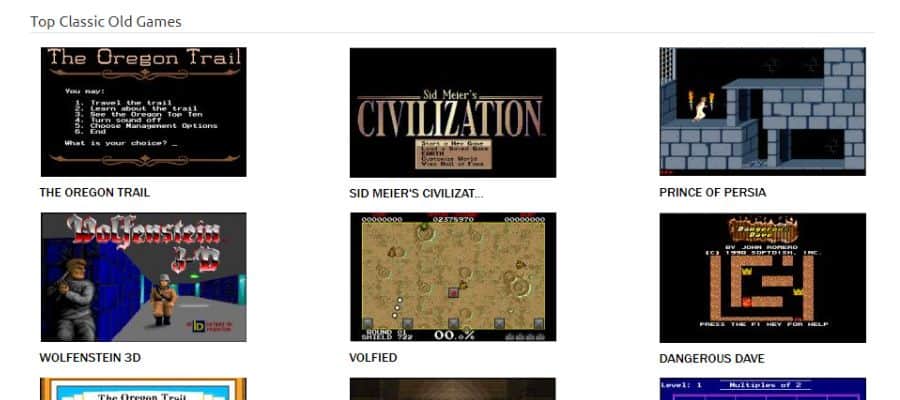 ClassicReload is another great resource for old-school gamers who want to relive the golden era of PC gaming through their web browser. And it's not just DOS games; there are some Atari stuff too. The presence of Sega Genesis and Apple II emulation makes ClassicReload a paradise for retro gamers.
Right on the front page where you land, it becomes clear that this website is packing some good stuff. Oregon Trail, Sid Meier's Civilization, Prince of Persia, Wolfenstein 3D, etc. You can search games by filtering for both genre and platform. 
DOSGAMES.COM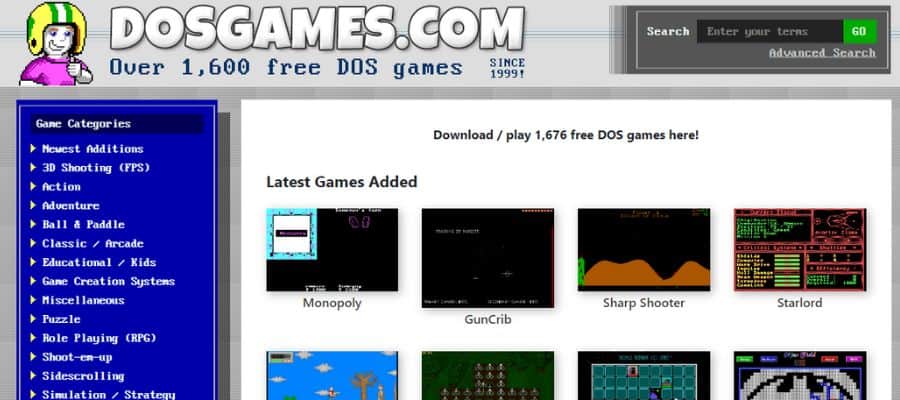 Unlike many other sites I've listed here, this is one that focuses primarily on DOS games. And at the time of writing this article, they have over 1600 titles. Absolutely free, no downloads required- perfect for people who don't want to mess around with emulators.
The categories include FPS, puzzles, role-playing, simulation, sports, etc. Apart from the games themselves, you also have various community-managed features. You can download Game Bytes magazines, interact with other DOS game fans on the forums, read the blog, and look up catalogs from old game developers.
RetroGames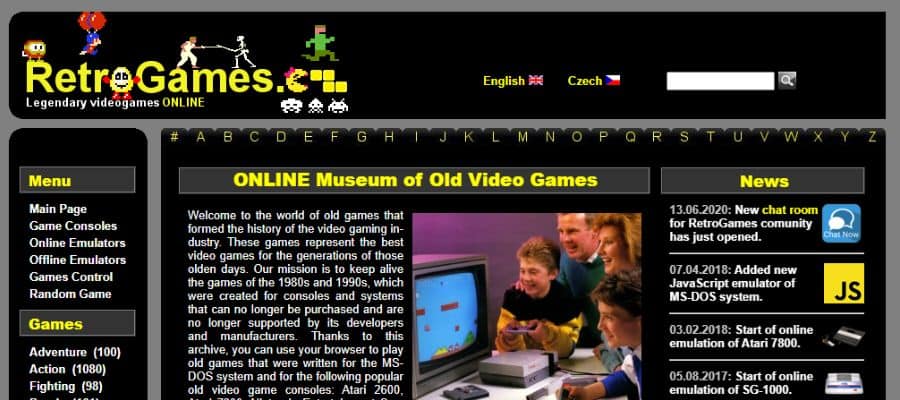 RetroGames provides you with everything you need to get started, and browsing their massive catalog of old games is really easy. Everything can be sorted through alphanumerically, using the bar at the top. Or you can just type in a name into the search bar.
You see a list of recently added games and top-rated old games for quick access on the right. On the left, there are various categories according to game genre. You can also select between game consoles (Atari, Sega, Nintendo) and download offline emulators for each.
RGB Classic Games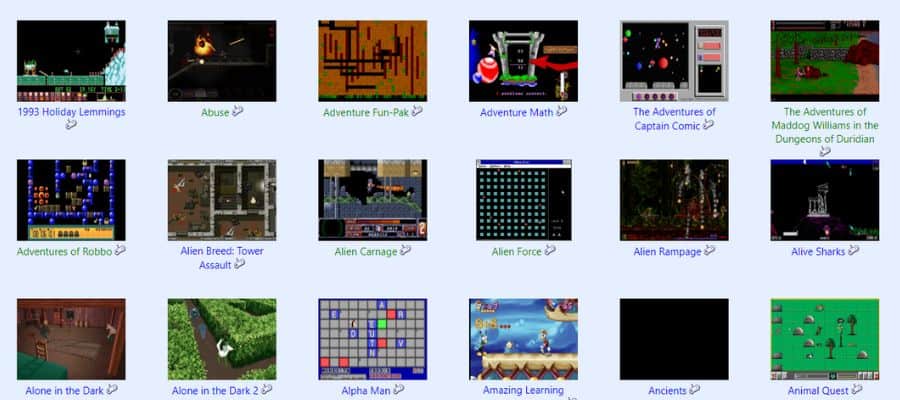 RGB Classic is all about preserving the old generation of games for future gamers. Think IBM PC, MS-DOS, Amiga, Commodore 64, etc. If you're looking for sheer volume, you might be disappointed by the collection size of RGB Classic.
However, if variety in genres and quality of games is more interesting to you then this is the perfect site. They carefully select shareware and abandonware that goes through a vetting process. Here, you'll find DOS classics that are actually fun to play (let's be honest, there was plenty of trash even back then). 
Gamezhero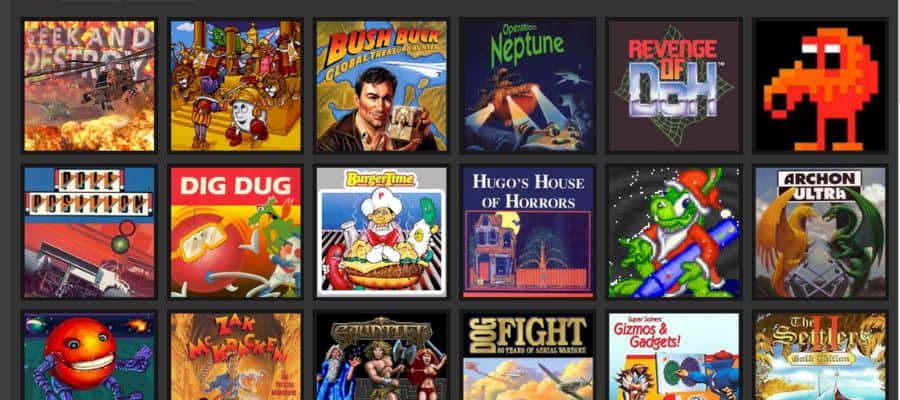 Gamezhero isn't a pure retro gaming project since it also contains several modern browser-based games. However, it is home to a wide variety of games, including old MS-DOS stuff. Some of the more memorable ones are DIG DUG, Bush Buck, Air Duel, Operation Neptune, and Archon Ultra.
The level of curation isn't something to write home about, especially compared to RGB Classic. But the large catalog combined with a slick UI makes this website an easy recommendation to every DOS gaming fan. You also get a wide variety of games from various genres- action shooters, fighting, air combat, racing, puzzle, etc. 
DOS Games Archive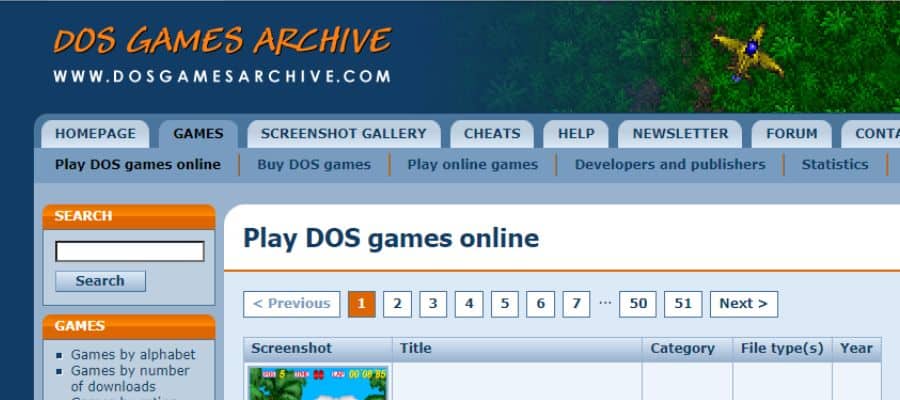 I feel like this is one of the most well-designed DOS gaming sites there is. Not only can you choose from a gigantic catalog of DOS games, but each has a qualifier or category attached to its metadata. Clicking on this will immediately display a list of similar games.
You can also see which games are freeware, shareware, abandonware, etc. When you get to the page of a specific game, you can choose to play it online or download the executable file (even source code in some cases). DOS Games Archives also contains patches and cheats for your favorite DOS games and a forum where you can talk with other users. 
Best Old Games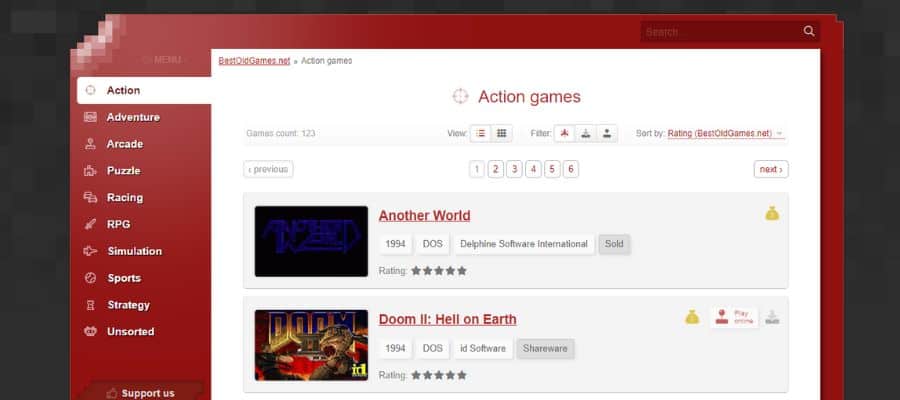 Not the most advanced website there is for playing DOS games online. Since the metadata and additional features aren't comparable to Internet Archive or DOS Games Archive, neither is the sorting feature any good. But you still get over 600 classics, many of which are playable online.
Not all games on BOG can be run within a web browser; some require downloads. And many of the games aren't exactly top-tier, especially those that got included simply because they are now freeware. I don't know about you, but I would much rather play DOOM or Sid Meier's Civilization than "Mario Teaches Typing."   
Play Retro Games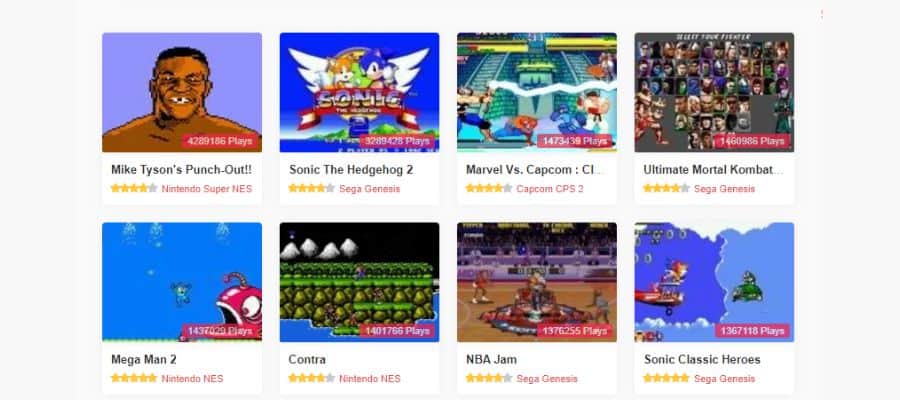 Play Retro Games is a site with web-based emulation for all sorts of retro platforms. They have Nintendo 64, Sega Genesis, Gameboy, Arcade, etc., and you can conveniently browse through pages upon pages of games for each one of these. Carefully curated to appease the most hardcore retro gaming enthusiasts, the catalog of games on this site is both diverse and entertaining.
You'll find very little filler material on Play Retro Games. And all game systems have their own pages with clearly defined categories that help you browse through genres that you're interested in. Large colorful icons and a simple menu make this one of the most user-friendly retro gaming sites on the Internet. 
Abandonware DOS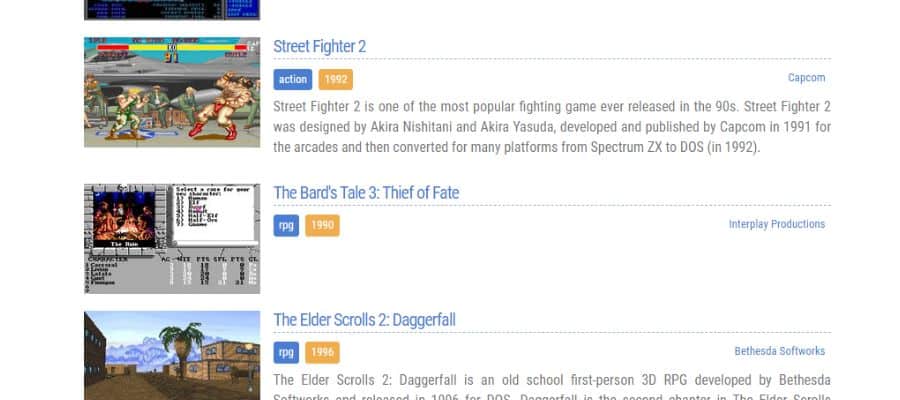 If you want a website to play, download, and discuss everything retro games- this is it. Abandonware DOS is a fan-driven community that celebrates the simpler times when people played games for fun and didn't care much about cinematics or microtransactions. There are various tags for games on this website that let you know if a game is still owned by its publisher or available for free.
Certain games that are available for sale on Steam or GOG can be tagged as "protected", and you won't be able to play or download them. Abandonware DOS also contains game retrospectives, basically short articles dedicated to a single game/ collection of games. 
VirtualConsoles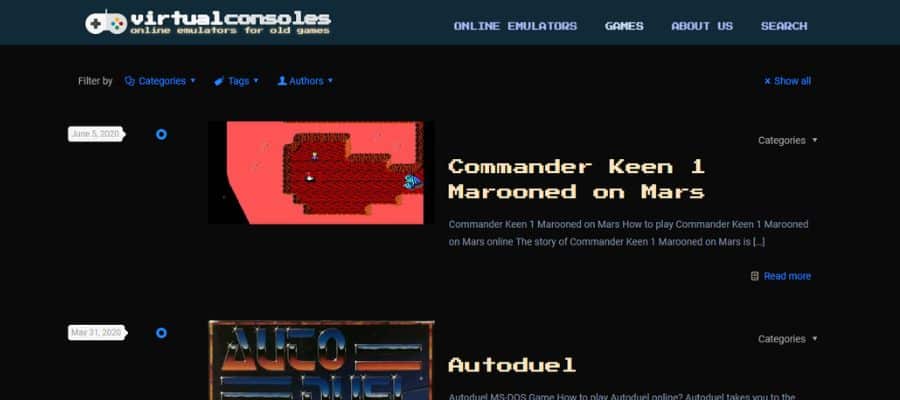 Ever wondered what it would be like to relive the 80s and 90s era of gaming through your very own collection of retro consoles? Well, think of this website as a room filled with game consoles from the past. And anyone with a computer + web browser can access said room to play any old game of their choice.
Well, not literally every single one of them- you are limited to the collection available on VirtualConsoles. But it's quite the expansive collection that will keep many old-school gamers busy for a long time. Commander Keen, Tetris, Prince of Persia, etc. are some of the highlights (plus you can emulate consoles such as Gameboy and NES). 
PlayMiniGames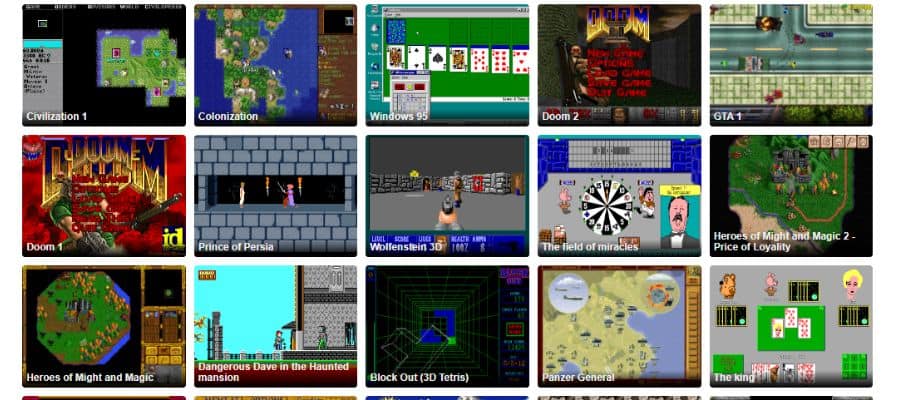 The process of finding and installing the right DOS emulator just to play some games is a task that many find to be more effort than it's worth. On top of that, you have to source game files and tune the emulator for each individual game. Well, say goodbye to all of that with PlayMiniGames- a website with an integrated emulator that plays all your favorite DOS games.
How is this site any different from all the other sites that let you play DOS games? For starters, changing the website language will also change the game language (not for every game).
On top of that, you can actually create saves and download them to your local drive. Then upload the same save files from your local disk when you log back in later. 
FreeGameEmpire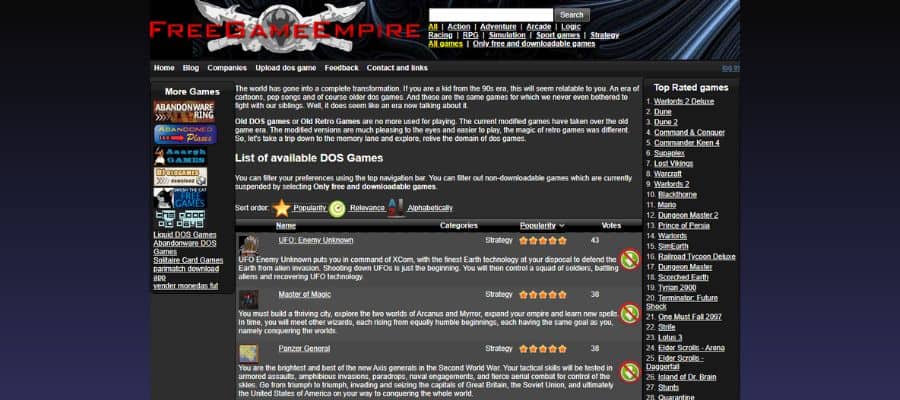 Here, you'll find both downloadable-only and online/ downloadable DOS games that are distributed as abandonware. To the right is a column containing legendary names such as Dune, Command & Conquer, Scorched Earth, Dungeon Master, etc. This, combined with the easily accessible category shortcuts on top of the page, makes it easy for your to find your favorite games.
But let's say you're new to the whole retro gaming thing and don't know which DOS game is right for you. Worry not; you're sure to find some great review articles in the blog that's built into this site.
And if you're a long-time DOS gaming fan but don't see a game you like in the catalog, there is an upload option. This lets you submit a game directly to the site (it's reviewed before being included). 
PLAYOLD.GAMES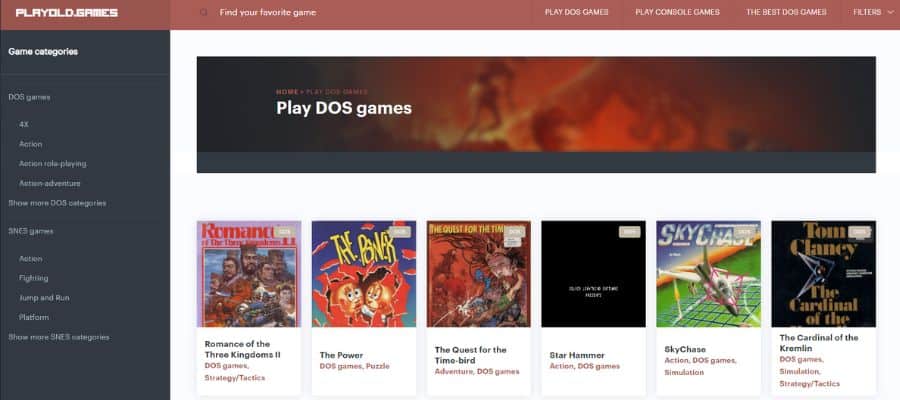 With clearly defined filters and a mobile-friendly UI, PLAYOLD is one of the best places to get your DOS gaming fix. It contains both DOS and retro console games, so you'll never run out of stuff to play from your childhood days. And if you're a new retro gaming fan who's just getting into this phenomenon, there is a list of categories to choose from on the left.
You'll find 4X strategy, racing, sports, role-playing, etc., in the categories section. This makes it easy for any gamer to find games that appeal to their personal taste. Some of the curated collections are worth checking out since they group popular retro titles belonging to the same genre into a single package. 
MSDOSGames.com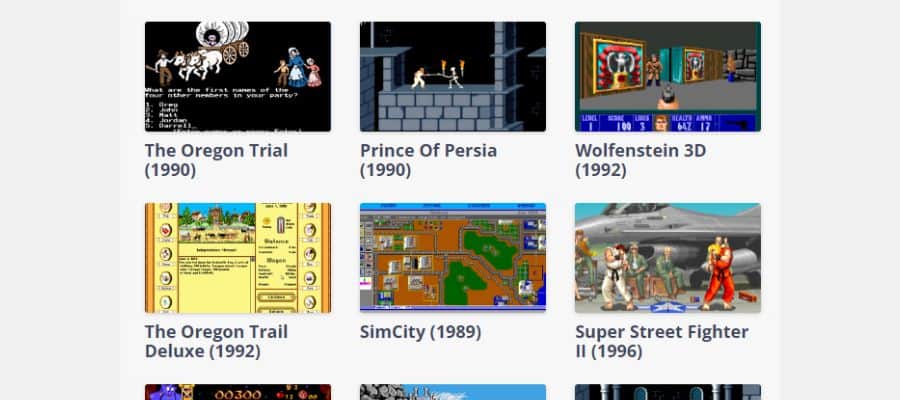 As far as retro gaming websites go, this one is pretty barebones. It doesn't have any fancy save functionality, nor can you upload your own DOS game files. And the catalog of available games is rather limited.
However, the site looks clean and works well on all browsers, which should be enough for most DOS gaming fans. Whether you're on Windows, Mac, or Linux, you'll be able to enjoy some good old DOS games from the 80s and 90s. Plus, the emulator performance is pretty good, even on low-end netbooks/ tablets.
MS-DOS Games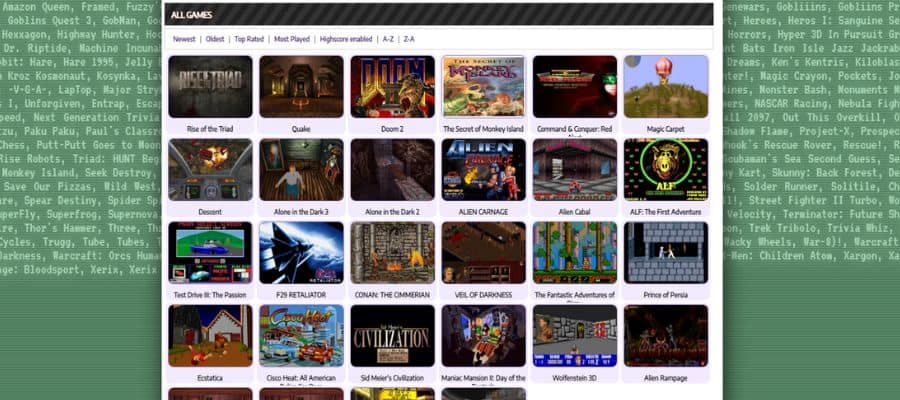 If it's a DOS game that's in the freeware/ shareware domain, you're going to find an emulated version of it on this website. And it's going to be playable online without the need for any downloads. Just the front page is enough to give you an idea of what to expect.
Immediately upon opening the site, you're greeted with names such as Doom and Duke Nukem. The top bar has popular categories- platformers, arcades, puzzle games, fighting games, etc.
They even have a rating system where users can rate a game they play. This makes it easier for others to sort through lists and look for the best-rated ones. 
DOS.ZONE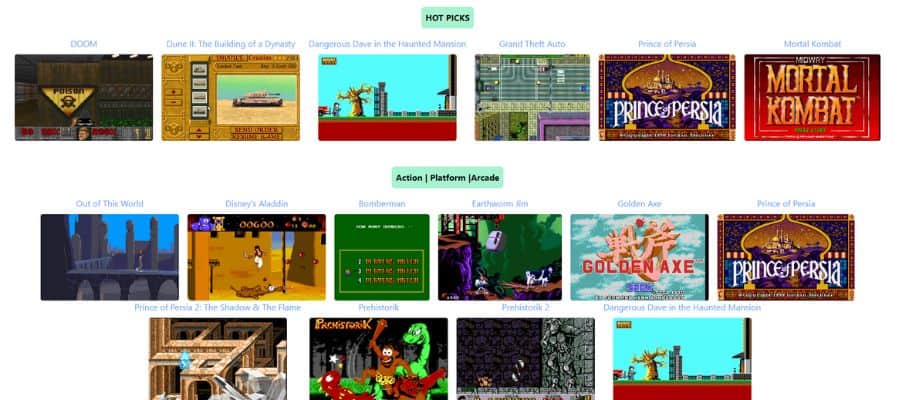 Earlier, I made a list of top DOS emulators for various platforms, including Mac, Android, Windows, and Linux. DOS ZONE was one of the Android emulators, except it isn't really an app. Instead, this is a specialized website with its own built-in DOS emulation and library of games.
And you can switch between Desktop/ Mobile versions of DOS ZONE freely depending on which device you're using. This site contains all the classics such as Doom, GTA, Mortal Kombat, etc., and t's powered by js-dos, which is basically a JavaScript version of DOS designed to run on browsers.
RetroGames.cc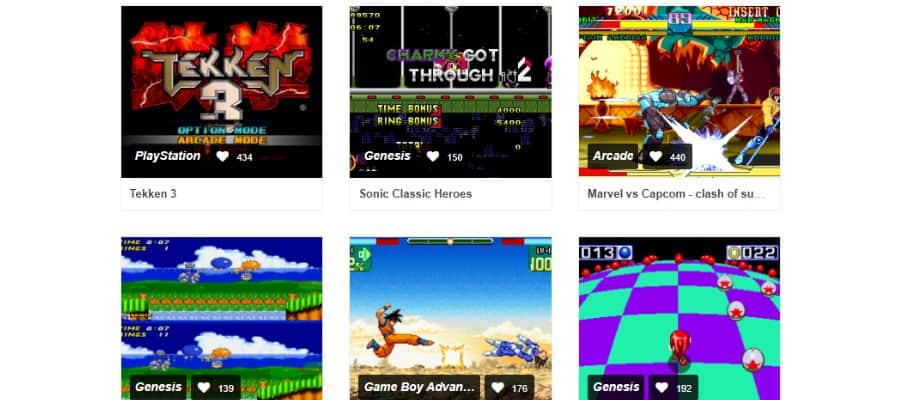 The complete package featuring retro emulators for everything from Sega to PlayStation (and DOS). RetroGames contains a wide selection of titles from every popular 80s/ 90s gaming platform. Adventure, platformer, racing, sports, shooters, role-playing, horror- RetroGames has it all.
And there's a counter for likes (much like Twitter) that lets you see how popular/ well-received a certain game is. Each game page has a short description, like/ dislike counter, genre tag, and comments section. 
ClassicGames.me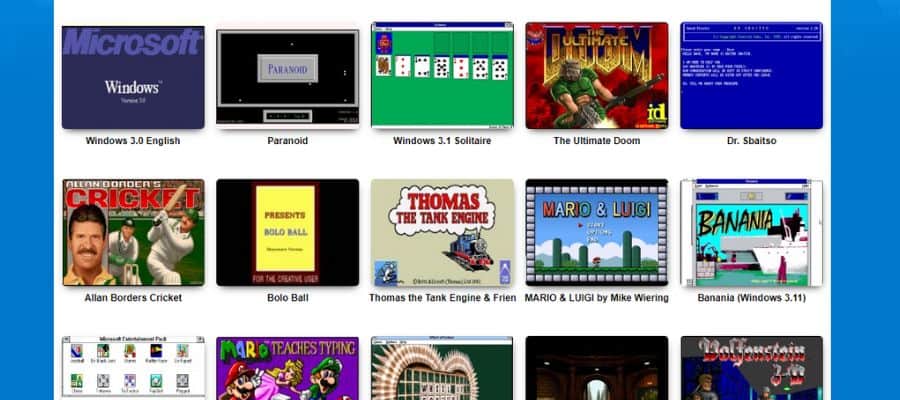 A fairly barebones site with emulators for various old game consoles from SNES to Gameboy Color, and a few PC classics in the form of MS-DOS emulation. It lacks many quality-of-life features, such as a filter system to search for games by genre/ rating. You also don't get any game metadata/ description, nor is there a way to save your progress for each game.
But if you just want to pick up and try an old DOS game on your laptop/ tablet while on the go, this is a great resource. Say you want to try out Doom or Wolfenstein before actually installing a full offline emulator. Or maybe you want to goof around with Windows 3.11 (yeah, you can actually "play" Windows 3 versions on this site). 
DOS Games World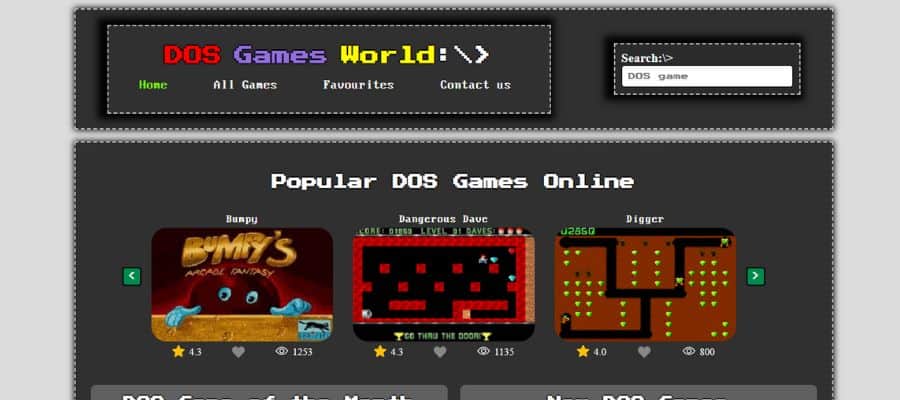 It has a cozy, old-school feeling that you only get from a site crafted by 80s gamers who grew up playing games in that era. The pixelated graphics and dated fonts fit right in with a site catered towards retro gamers. DOS Games World uses JS-Dos to run all its games within your browser, so you don't have to mess around with emulator downloads.
And it has a fairly large game library, although you can request the site developers to add extra games by mailing them. If you like a game and wish to play it again in the future, you can favorite it. Then, it will show up in your list of favorite games.  
DOSGAMEZONE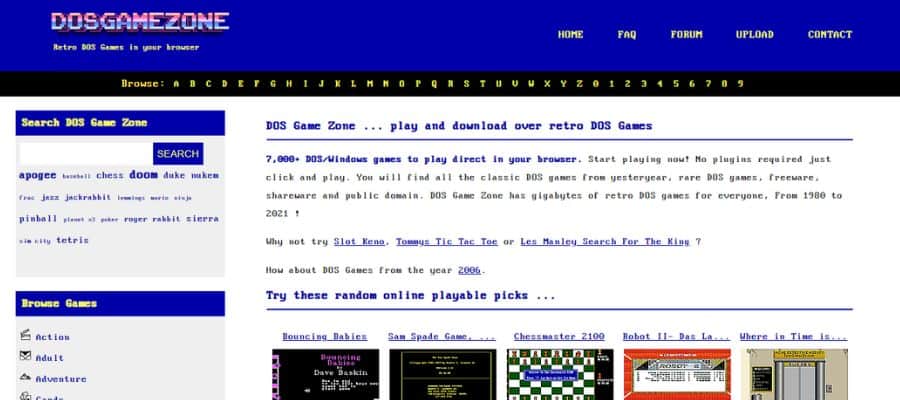 If we're talking sheer collection size, very few websites even come close to DOSGAMESZONE. Partly because this site hosts a variety of games from all sorts of genres and time periods, both professionally developed as well as fan-made. That's right; you can upload your very own fan-made DOS games over to DOSGAMEZONE. 
And they are also the only website I've found that displays a list of the "least popular" downloads right next to the "most popular" ones. And if you want Windows 3 games, this site also has those. It has a handy alphanumerical sorting system in addition to categories for various game genres. 
JS-DOS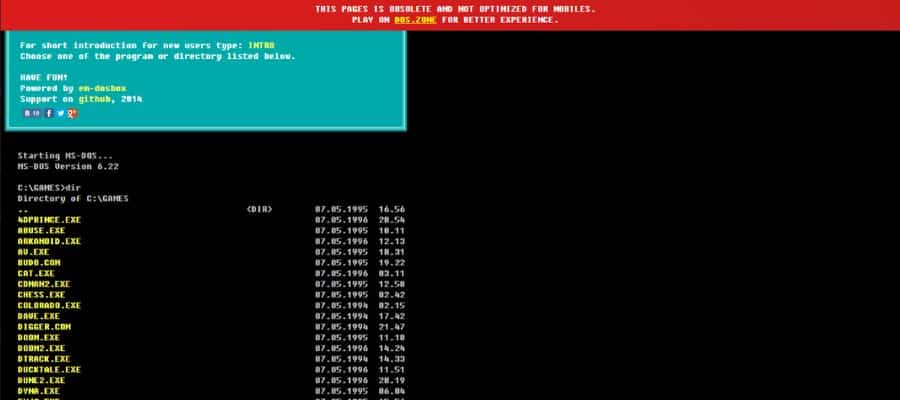 The actual website is a barebones framework, a tool designed to be used by DOS gaming enthusiasts. JS-Dos is a project designed around running the DOS operating system in JavaScript so it can be used within browsers. And this website isn't like anything else on my list.
For starters, there is no menu or UI. Instead, you literally get a command-line interface on your screen complete with a pitch-black background. It's running DOS version 6.22, and there is a small selection of games that you can click on to play them.  
XTDOS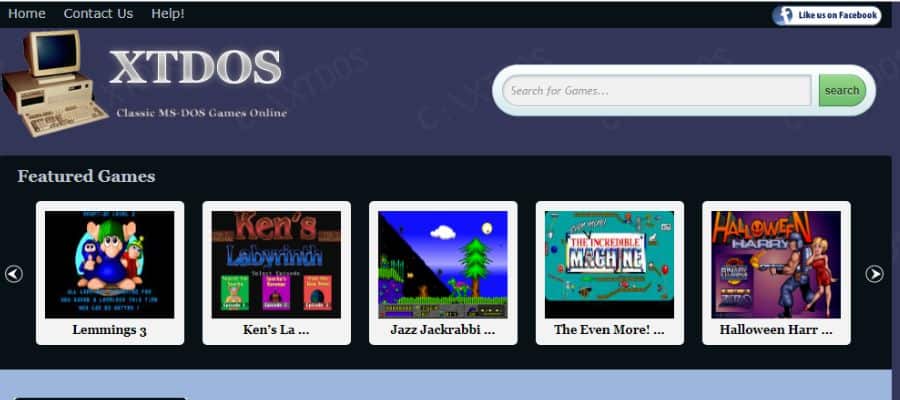 Both XTDOS and JS-Dos are old websites that probably won't be supported by modern mobile devices. So don't expect to be playing DOS games on your phone if you're using either of these websites. XTDOS at least has a graphics-based UI in line with modern website design, unlike JS-Dos which is essentially a command prompt window within your browser.
On XTDOS you can browse through a massive library of old DOS games, sorted via ratings and genre. Clicking on the photo for an individual game will take you to its page which contains the emulation window and a list of controls. 
Play.VG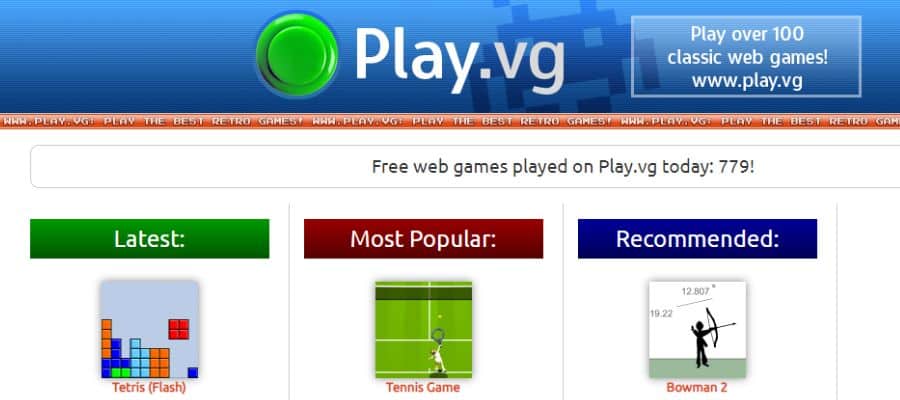 This isn't exactly a DOS-exclusive retro gaming site, because it contains all sorts of old flash games and even some mobile games. The selection is fairly limited, with many gems hidden within a sea of mediocrity. But if you know what you're looking for, you can certainly have a blast on this website.
A lot of games are simple card games or puzzle games, while others are simply copies of Pac-Man/ Tetris. There are 3 columns on the home page- Latest, Most Popular, and Recommended. 
PlayOnlineGames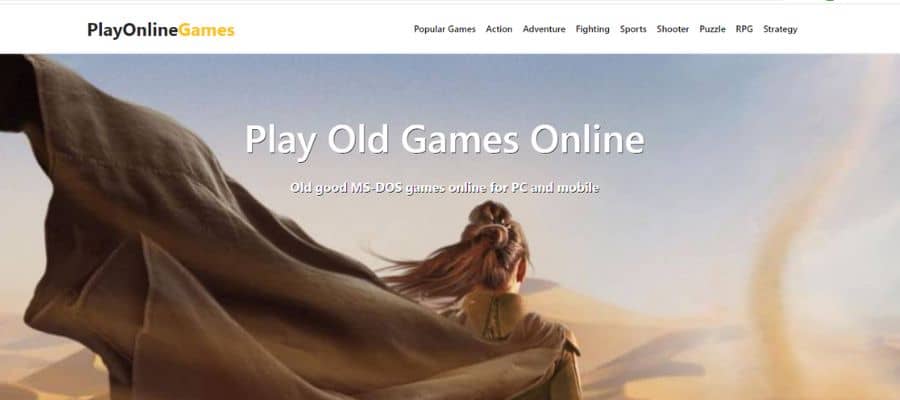 The collection on this website isn't super large, you can go to "popular games" and everything in that category just fits into one page. However, the quality of games is pretty good. You've got household names such as Doom, Civilization, Comanche, Dune 2, etc.
Just on the merit of the collection quality, I can wholeheartedly recommend this retro gaming site to every old-school DOS gamer out there. Plus the DOS emulation on this site works no matter which OS you've got- Windows, Mac, or Linux. You're good to go as long as your computer is equipped with a web browser and functioning Internet.
Free 80s Arcade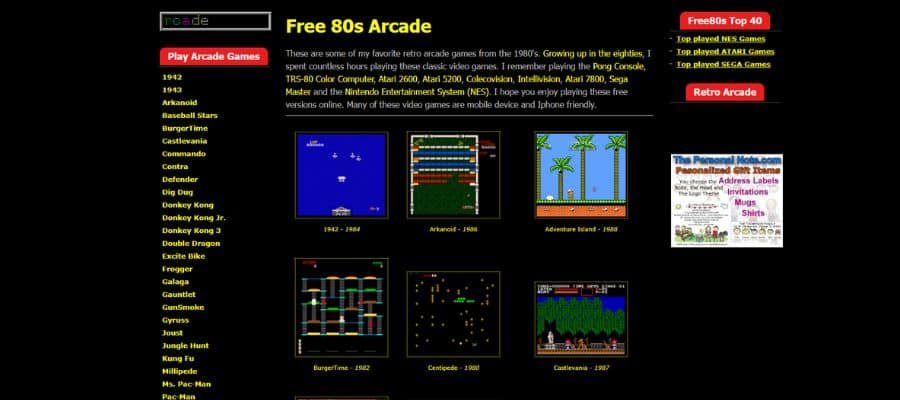 Want to relive the 80s arcade and home console gaming scene from the comfort of your web browser? Whether you're on a computer or phone, Free 80s Arcade will give you access to dozens of excellent games from that era. Just for NES, they have three different emulators.
One is optimized to support original sound and graphics, while the other is optimized for touch devices. This site also has Atari 2600, 5200, and 7800 emulations. And, of course, it has a massive library of old DOS games that are now distributed as freeware/ abandonware.
EMULATOR Games Online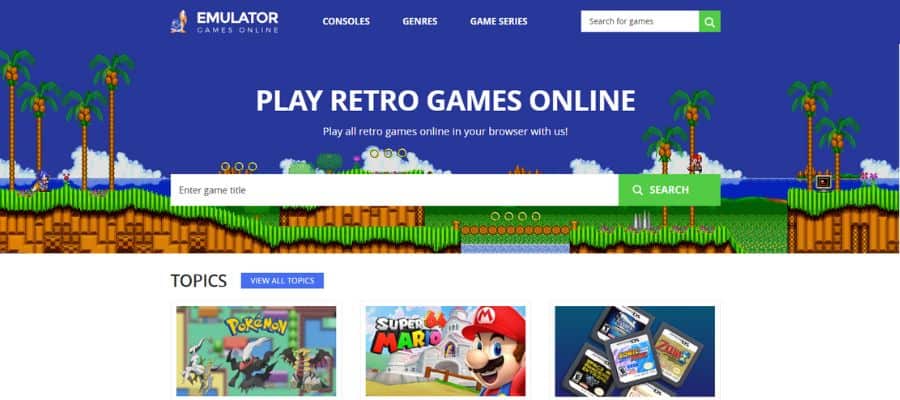 Emulator Games Online isn't just a site where you open up retro games within your browser. It is also a great resource for anybody who wants to learn about retro games. You can read up articles on the best games for old consoles/ best emulators for old consoles.
You have a search bar on the top, and the home page contains all the popular games from various retro consoles. There are three different tabs- Consoles, Genres, and Game Series. Within consoles, you get everything from Atari to Nintendo.
Vizzed Retro Game Room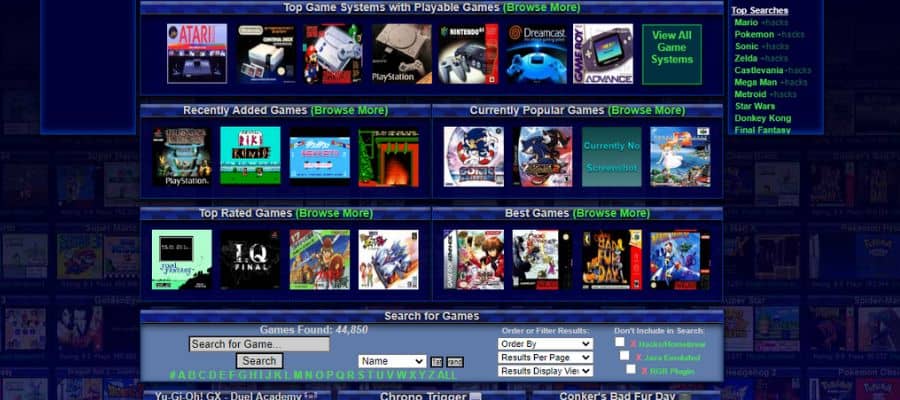 A complete retro gaming center that can be accessed from your web browser. Multiplayer lobbies, collections of popular games for retro consoles, streamers, emulators- you'll find everything over here. The site even has a leaderboard for various games, along with game music and radio streams.
Due to a lack of support and funding, Vizzed has fallen to the wayside. Many features aren't maintained or updated, causing a big drop in the number of users. But they still add new games to the site for emulation along with articles/ contests.  
RetroGames.onl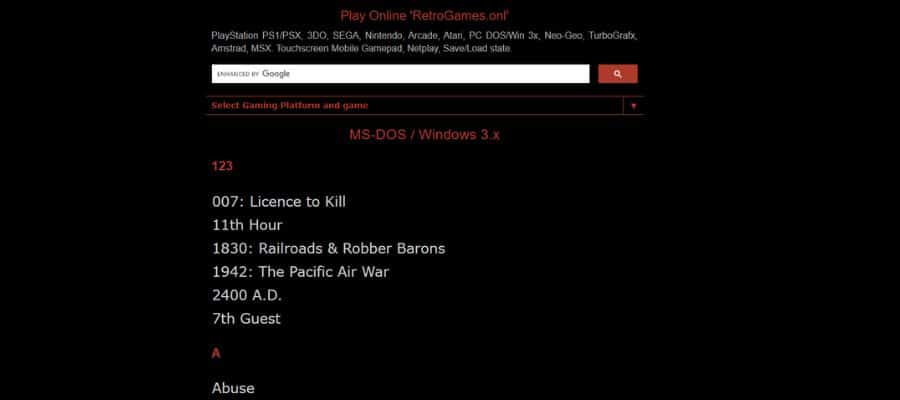 One of the few sites with support for PS1 and TurboGrafx emulation. RetroGames.onl is a fairly simple website with an A-Z listing of retro games on its home page. And there are a lot of MS-DOS/ Windows 3 games among these.
While the home page looks barebones, clicking on a game takes you to a page complete with game metadata and control layouts. You even get text walkthroughs explaining how to complete a game and find all the hidden items/ secrets. 
Conclusion
Well, it seems there are several websites with free DOS games that you can play within a browser. No specialized software or hardware is needed. This means anyone can access these timeless classics provided they have a computer and internet connection.
But there are some downsides compared to dedicated DOS emulators such as DOSBox. For starters, you can only play the games available on whichever website you use. You can't bring in your own game files and load them up.
Each one of these requires online connectivity, so internet access is mandatory. And controls are often wonky, with limited (or even non-existent) options for customizing game settings. Finally, saving progress for a future play session with these browser-based DOS emulators is out of the question.