Emulation is a great way to relive all your childhood gaming memories. Except, you now have the convenience of modern technology and can easily play old games at 4K resolution and 60fps. Besides, with all the emulator software that's out there, you can emulate everything from NES to PlayStation.
Hardware has progressed a long way in the past 40 years. This is why even a low-end mobile device equipped with an ARM-based quad-core SoC can easily run 8/ 16-bit games. Today, I shall take a look at some of the top handheld retro consoles.
All retro consoles in this article are designed specifically to emulate old consoles. So you can just load up a ROM and play your favorite classics. They usually come with Android or a Linux Distro pre-installed.
Every one of these cheap handheld devices accepts SD cards on which you can load ROMs, operating systems, etc. Most of the differences come down to processor speed, ergonomics, build quality, and screen type. I have ranked these retro handhelds from best to worst based on the aforementioned qualities.
Ambernic RG351MP
| Pros | Cons |
| --- | --- |
| Excellent build quality  | Quite pricey for what is essentially an RG351P with a metal shell |
| Dual analog sticks  | |
| 480p 4:3 IPS display  | |
| RK3326 quad-core processor | |
 The RG351MP has it all. A slick UI, dual analog sticks, IPS screen, and stereo speakers. It isn't a gamechanger compared to the previous 351 series consoles from Ambernic but offers a few nice improvements. 
These improvements won't persuade you to buy another RG351 if you already own one, but new buyers will be very pleased. For starters, the shell is no longer plastic. Instead, it's made from machined aluminum. 
You also have Wi-Fi built into the board, so there's no need to attach USB adapters. And the RK3326 chip is powerful enough to emulate everything up to the PS1 era. 
Ambernic RG350P
Pros
Cons
Lightweight and compact shell
Has issues with emulating certain PS1 games
like Tekken 3 unless you enable frameskip
Symmetrical analog sticks
Rubber grips to prevent slipping 
4:3 IPS display
It may be getting old at this point, but the RG350P is still an excellent retro handheld. It feels premium with a good pair of analog sticks that don't wobble or float. The D-pad feels easy to use, and you get ample tactile feedback while pressing the ABXY buttons.
The one thing I would change is the layout of this console's shoulder buttons. Instead of the current side-by-side layout, I want them staggered in a bottom-top configuration. As for the display, it's one of the best in any retro handheld.
Evercade
Evercade Premium Pack Includes 3 Cartridges Collections: Atari Volume...
"The evercade is a retro handheld Console; supports 8 and 16 bit games;...
Full list of Atari games on cartridge: adventure (2600); alien brigade...
Food fight (7800); gravitar (2600); Missile command (2600); motor Psycho...
Full list of data East games on cartridge: bad Dudes; Burger time; burnin'...
Pros
Cons
It has a unique retro aesthetic
Uses a 16:9 aspect ratio
The use of licensed cartridges means
you don't have to pirate ROMs
The display doesn't use an IPS
panel and looks dim
The Evercade is a rather unique concept. It is designed to look like an NES controller, and the D-pad feels like something that Nintendo themselves made. It even accepts its own proprietary cartridges that contain collections of licensed games.
However, the aspect ratio of its display is weird. Unless you are willing to tweak some display settings, your NES and SNES games will look stretched on the 16:9 panel. The Evercade does have mini-HDMI output which lets you play your games on a big screen. 
RK2020
Pros
Cons
Can emulate a ton of retro consoles
from NES to GBA
Dreamcast and PSP emulation is a bit shoddy
Comes with a variety of color and case options
Start and Select button placement is suboptimal
 Another knockoff retro handheld from China. The RK2020's control layout and shell look very similar to Ambernic's RG351 series. However, it has a Select and Start button in place of the right analog stick.
The ABXY buttons don't feel too mushy, and they bounce back fast after being depressed. You get an RK3326, the same ARM-based quad-core that's used in the more expensive RG351MP. However, the shell is plastic and there's no built-in Wi-Fi.
Ambernic RG351V
Pros
Cons
RK3326 quad-core chip
Some N64 games run slow 
Well-built
No wireless networking or display output
4:3 IPS display 
Comes with a bunch of emulators
and games preinstalled
The internal components are exactly what you get in the RG351MP, but the shell and control layout are entirely different. This is a vertical form factor console, meaning it has a display above the controls. Much like the original GameBoy.
And it can emulate every single GameBoy game from the regular GB to the GBA. Nintendo 64 emulation is tough if you are running demanding games such as GoldenEye. The RG351V has a pretty powerful speaker, but it's usually going to be covered by your palm while gaming. 
PocketGo S30
Pros
Cons
Very cool looking design that's patterned
after a SNES controller 
Non-laminated display means you get light bleed
Staggered shoulder buttons
Struggles with N64 and PSP emulation
Good D-pad
The PocketGo S30 is powered by a quad-core CPU, but it's clocked at 1.2 GHz and has access to 512MB of RAM. In contrast, the RG351 series of consoles have a 1.5GHz quad-core and 1GB of RAM. Still, the PocketGo is more than powerful enough to emulate 8/ 16-bit games.
Because of the curved shell, you will have a great time using this controller's shoulder buttons. Out of the box, you'll notice that images don't look very sharp which is probably down to the emulator software being configured incorrectly. Viewing angles are also limited because this console uses a non-laminated display panel. 
PocketGo 1
Pros
Cons
Priced cheap despite emulating a wide
variety of 8 and 16-bit consoles
Tiny screen size means you won't
play it for extended periods
Built rugged
No analog stick
Bright display
Performance suffers in 3D PS1 and
N64 games
Made by Bittboy, the PocketGo is an interesting little package. It can emulate the Sega Genesis, NES, SNES, GameBoy, GameBoy Advance, GameBoy Color, and even some arcades. Compared to the Bittboy, this console has a larger battery which means you'll get a few extra hours of playtime.
There is a volume wheel on the right, but try not to accidentally crank it up while sitting in a bus or car. You also get two shoulder buttons and a Type-C charging port. There's a headphone jack if you want to enjoy high-quality audio.
Ambernic RG280V
Pros
Cons
Ideal for carrying around in your pocket
thanks to the vertical form factor
No display output 
Linux-based OS
Shoulder buttons aren't staggered
5-hour battery life
It runs the OpenDingux OS which is a barebones Linux distro intended for retro gaming. Unlike some of the Android-based emulator handhelds, this UI feels sparse and outdated, but it also requires very little system resources. The RG280V is a vertical form factor console, but it's more compact than you'd expect.
Because Ambernic didn't put an analog stick on this thing, it isn't very tall. It is supposed to be used primarily for GameBoy, NES, and SNES games. Build quality feels premium, thanks to the sturdy plastic shell and glass-covered IPS display. 
PowKiddy RGB10 Max
Pros
Cons
Premium rubberized matte finish
16:9 aspect ratio is perfect for PSP, but not for 8
and 16-bit consoles that have to be
stretched in order to fit
Large 5.5" IPS display
Two USB-C ports
Dual analog sticks
1GB RAM
With 2 USB Type-C ports, built-in Wi-Fi, and a rubberized matte finish, this is one of the most premium retro handhelds you can buy. Despite using an RK3326 SoC and 1GB of RAM, it costs less than an RG351MP. The display is IPS, and in a widescreen format with a resolution of 854 x 480.
So you can either play with black bars or stretch out the image if you want to fill your screen. PSP emulation isn't perfect, but its 16:9 aspect ratio is ideal for any PSP game. GameBoy and SNES emulation are perfect.
There are 2 analog sticks that feel really nice to move around. However, the shoulder buttons are thin and overlap each other so you'll often find yourself fumbling around with them.
Retroid Pocket 2
| Pros | Cons |
| --- | --- |
| There is less input lag compared to other Chinese-made handhelds | Asymmetrical analog stick layout that is loved by some but hated by others |
| It has a bright 4:3 IPS screen | |
This might just be one of my favorite pocket handhelds, because of the way its controls are designed. For starters, the Retroid Pocket 2 uses vertically staggered shoulder buttons. This is very similar to a modern Xbox or PlayStation controller and reduces accidental button presses.
On top of that, the analog sticks are asymmetrical. Some hate this, but I really don't mind it. The right analog is much shorter in length so you can easily sweep your thumb over to ABXY without hitting the stick.
And that's not all since the Retroid Pocket 2 is powered by Android OS. It lets you download apps like Steam Link so you can stream PC games to your handheld device. Online multiplayer is possible since this console has built-in Wi-Fi and Bluetooth.  
PiBoy DMG
| Pros | Cons |
| --- | --- |
| Uses a Raspberry PI 4, so it's a perfectly good general-purpose computer in your pocket | Quite expensive for most people who just want a handheld retro console |
 Is it more expensive than an RG351 or ODROID console? Absolutely, but then again you don't have to pay full price if you already own a Raspberry Pi 3B+ or 4B. The DIY kit requires you to supply your own Pi board and SD card since it only comes with the shell, cooler, battery, and display.
If you own a Pi, order the DIY kit and turn your Pi into a retro handheld. If you don't own a Pi, you'll have to shell out extra bucks for the pre-assembled package. In terms of emulation, the PiBoy DMG is leagues ahead of most other consoles on my list.
The DMG uses a combination of a Raspberry Pi 4B and 4GB of RAM. And it is running RetroPie. This means you get excellent Dreamcast and even Nintendo 64 emulation, something that isn't possible with RK3326 consoles like the RG351.  
ODROID-GO Super
| Pros | Cons |
| --- | --- |
| Big 5.5" tempered glass display with a resolution of 854 x 480 | Battery life suffers due to the larger display |
| Has a headphone jack  | Mono-speaker |
| Shoulder buttons are spaced out well | |
This is based on the ODROID-GO Advance, which was one of the earliest handheld consoles to use an RK3326 processor. The Super has 1GB of DDR3L memory and rocks a 5" display with a resolution of 854 x 480. If you've been keeping track thus far, you'll immediately know that this screen is not so good for 8 and 16- bit consoles.
However, it is perfect for PSP emulation (as long as you're playing less demanding PSP games). Despite having a 4000 mAh battery, the runtime isn't very good thanks to this higher resolution 5" display.
And most of the buttons on this console feel like they're cheaply made. But they shouldn't fall apart with daily use. The analog sticks have thin heads that are non-rubberized, so they dig into your fingers after a while.
PowKiddy V90
Pros
Cons
The ultimate cheap GameBoy emulator with a small
clamshell design
Underpowered for anything above SNES/ Genesis 
Excellent buttons and D-pad
Poor audio quality
Do you want the ultimate GameBoy emulator? Well, here it is. The PowKiddy V90 is really cheap for how well-built it is.
And the display is in a 4:3 aspect ratio with a resolution of 320 x 240. It is 3" in size, so not too small but also not gigantic. Just the right size for sliding into your pocket and playing on the go.
Unfortunately, the battery life isn't very long. It clocks in at just around 2.5 to 3 hours, which is less than ideal for a GameBoy emulator. And the audio sounds hollow, it cracks as you increase the volume levels. 
PowKiddy RGB20
| Pros | Cons |
| --- | --- |
| Perfect for GameBoy Advance due to its 3:2 480 x 320 display | Most retro 8 and 16-bit consoles used a 4:3 aspect ratio so you'll have to tweak some settings |
In terms of emulation, the RGB20 can run every 8 and 16-bit era console flawlessly. So your NES, SNES, and GB games won't be an issue for this tiny vertical form factor console. However, it isn't so good with N64 and PS1 emulation.
If you're running 2D N64 and PS1 games, the RGB20 will handle them just fine. With some of the 3D games, it will struggle since it uses the same RK3326 chipset as most other consoles in its price range. The RGB20 even has an internal Wi-Fi chip for online connectivity. 
CHI GAMEFORCE
| Pros | Cons |
| --- | --- |
| 640 x 480 4:3 IPS screen | Doesn't come with any OS or emulators preinstalled  |
| Onboard Wi-Fi (2.4GHz)  | Subpar D-pad |
| Rumble motors | Certain N64 and PSP games don't run very well |
| Dual analog sticks | |
| LED-backlit buttons | |
The GameForce is Lao Feng's dreamchild. He is a retro gaming enthusiast from China who wanted to create the perfect handheld console on a budget. Unfortunately, he couldn't source the chip he wanted on time.
So the GameForce uses an RK3326 like most other handhelds. It runs the EmuELEC OS which contains a ton of emulators for everything from NES to PSP. There are no performance issues with emulation unless you're running 3D games from the PS1 and N64 era.
The speakers sound crisp, and there is LED backlighting behind every button which helps with low-light gaming. Ergonomics are solid so the console feels great in your hands.
Bittboy Pocket Go V2
| Pros | Cons |
| --- | --- |
| Is equipped with a large screen despite being relatively compact  | JZ4770 dual-core is a little weak for PS1 and N64 emulation |
| 4 shoulder buttons | Small 2000mAH battery  |
| Powerful speaker | |
Compared to the original Bittboy Pocket Go, this one is much larger. It packs a new 3.5" 4:3 IPS display and uses the JZ4770 dual-core processor.
You don't get nearly as much processing power as an RK3326. But there's still plenty of muscle to run SNES or Genesis games.
The Pocket Go V2 squeezes out nearly 5 to 6 hours of playtime from its 2000mAh lithium-ion battery. And it charges quite fast with a Type-C cable. There are 4 shoulder buttons that come in handy while playing PS1 and PSP games.
PAP-KIII/ KIII Plus
| Pros | Cons |
| --- | --- |
| One of the best PSP clones | Anemic JZ4760 dual-core processor |
| Can emulate a wide range of arcade and 8/ 16-bit consoles | Mediocre battery life |
| Even has a built-in camera | |
One of the lesser-known PSP clones from China, this is both a retro handheld and multimedia device at the same time. The PAP-KIII can play NEOGEO, SNES, GameBoy, and PSP games. It can also click pictures with its built-in 2MP camera and has the ability to play multimedia files.
Most people who own a phone won't benefit from the multimedia aspects of this console. But its retro gaming abilities are nothing to scoff at since it easily emulates everything up to the SNES and Genesis.
The PAP-KIII has a UI that's smooth and easy to navigate. Plus it comes preloaded with a bunch of game ROMs and emulators. Shoulder buttons feel clicky, and the D-pad is pretty decent considering the price of this console. 
Hyperkin SupaBoy
Sale
| Pros | Cons |
| --- | --- |
| The chunky design lends to a comfortable grip  | Poor display quality with washed-out colors and low brightness  |
| Good D-pad and buttons | It uses a 16:9 aspect ratio that isn't ideal for NES/ SNES games |
| Excellent battery life | |
| Has display output so you can plug it into a TV | |
With high-quality buttons, dual front-firing stereo speakers, video output, and a large battery, the SupaBoy should've been perfect. However, its sub-par display is what resulted in this console's downfall. Don't get me wrong- it isn't bad by any means.
However, the 16:9 aspect ratio combined with a low brightness level doesn't feel right while playing retro games. Colors feel desaturated and viewing angles are terrible. Everything other than the display is implemented perfectly.
It even accepts original Nintendo cartridges and has input ports for SNES controllers. There is AV out, so you can connect this console with your TV for an authentic retro gaming experience.
PowKiddy Q20 Mini
| Pros | Cons |
| --- | --- |
| One of the smallest landscape pattern retro consoles | Poor speaker placement |
| Easily pocketable | Buttons feel a bit cheap and wobbly |
| Glass screen cover | |
| 3.5mm audio jack | |
I love how this tiny little console looks, with its NES controller-themed chassis and gold + black finish. It's also priced very aggressively, sitting well below more premium products like the Ambernic RG351P.
The PowKiddy Q20 Mini has an excellent display that's protected by a glass screen cover. The buttons aren't top of the line, but they feel tactile and durable enough for everyday use. The volume rocker is top-mounted to prevent accidental touches, and it uses Type-C for charging.
GPD XD Plus
GPD XD Plus [Latest HW & Most Stable Update] Handheld Gaming Console...
The GPD XD+ handheld device small enough to fit in your pocket, it is...
It also features Vulkan Engine support for even greater performance...
It features a powerful MT8176+PowerVR Hexa-core processor, 4GB RAM, 32Gb...
Comes with Wireless LAN 802.11 a/b/g/n/ac - Dual Band and compatible with...
| Pros | Cons |
| --- | --- |
| Good controls | Clunky UI |
| The clamshell design feels sturdy  | Tons of empty space around the buttons |
| All-day battery life  | Runs an extremely outdated version of Android |
| Ample I/O options with micro USB and HDMI | |
One of the earliest Android-based emulation consoles, the XD Plus is sort of outdated by this point. But that's just the software, which is Android Nougat. You can easily swap it out for any retro gaming OS, including more modern versions of Android.
In terms of processing power, it uses a hexacore MediaTek CPU which puts it ahead of the RK3326 gang. And it has a massive 6000 mAh battery so you can game all day without having to constantly monitor the remaining charge level. The controls feel good, and you won't find any creaking or flexing in the plastic shell.
PowKiddy A66
| Pros | Cons |
| --- | --- |
| Has the footprint of a credit card which makes it very pocketable | Many of the preinstalled game ROMs aren't even in English, and a lot of them are just copies of each other |
| Decent buttons and D-pad | |
If you want a console that fits in your shorts pocket while you go down to the mall, this is it. It is no longer or wider than most credit cards, and the plastic shell feels sturdy. Yes, some of the buttons wobble a bit and the battery life isn't stellar.
But then again, what do you expect from such a cheap emulator console? It can easily play GameBoy, GameBoy Advance, NES, Genesis, and SNES games. But you won't be gaming for several hours on end, because the 2" display feels claustrophobic after a while. 
GKD Mini
| Pros | Cons |
| --- | --- |
| 3.5" tempered glass IPS panel with 320 x 240 resolution | The shoulder button placement isn't ideal |
| Good quality buttons and D-pad | The battery could have been larger |
| Compact design | Single 1W speaker |
It looks like a copy of the Ambernic RG280V, but with a slightly different button layout. Build quality is really nice with a nice soft-touch finish, rounded edges, and a glass-covered display. There is even a metal-cased edition that costs more but you get a machined aluminum shell that looks cool and feels premium.
Battery life is easy to monitor, thanks to 4 LED indicators. The buttons are bouncy and responsive, suited to long play sessions in excess of 1 or 2 hours. And the GKD mini sports a bottom-firing stereo speaker sound system which is leagues ahead of its competition.
GKD 350H
Pros
Cons
One of the most powerful handhelds at this price range
No volume wheel
It has two shoulder buttons and a responsive D-pad
The single speaker is placed in a spot where it will always
get covered by your right palm
The GKD 350H is one of the fastest handhelds you can get for under 80 dollars. It is powered by a custom dual-core 1.5 GHz MIPS processor that is paired with 128MB of RAM. The emulation performance in NES, SNES, GBA, Genesis, NEOGEO, and even PS1 games is absolutely wonderful.
In terms of ergonomics, the 350H scores high. It's compact, but not so small that you'll have trouble holding onto it for long periods of time.
And the finish is quite smooth. Combine that with a good D-pad and an excellent display, and you get a console that is almost perfect for its price. Almost, because the speaker is placed next to your right palm and there is no 2nd analog stick. 
DIGI retroboy
Pros
Cons
Good 3" display with a resolution of 960 x 480 and multiple
brightness levels
The triggers are poorly designed and have very little tactile feedback 
Accepts GBA cartridges 
The aspect ratio is a bit too wide for GBA games
Even has a GameBoy Link port
Hey, do you know where I can buy a brand new GameBoy Advance right now? No? Well, I guess this retro console is my only option.
But wait, I don't have to download ROMs from shady websites. Because the DIGI retroboy will accept my original GameBoy Advance cartridges. It uses hardware that's similar to the original GBA, instead of an RK3326 SoC like every other handheld at this price range.
Since it uses custom hardware, emulation performance is perfect. GBA, NES, SNES games all run like a dream. The D-pad is responsive and requires very little pressure to activate.
LDK Horizontal
| Pros | Cons |
| --- | --- |
| Clicky triggers  | Build quality doesn't feel too promising  |
| Precise and responsive D-pad  | The PS1 emulation has lots of framerate issues |
| Excellent 240 x 320 display | |
Apparently, LDK stands for "Little Dragon King". Yep, it's definitely a Chinese clone handheld but there's a lot more to this little fellow than meets the eye. It is also available in a vertical form factor (called the LDK portrait/ LDK vertical).
While its plastic shell might feel thin, the buttons are quite well implemented. They don't wobble or take a lot of time to bounce back. The analog stick moves around freely and has a nice soft-touch finish that feels comfortable to use. 
Bittboy V3.5
| Pros | Cons |
| --- | --- |
| One of the best GameBoy clones you can buy, it has a similar plastic texture and button layout | Underpowered processor, cannot emulate PS1 or N64 |
The latest Bittboy out there, this one feels very close to an original GameBoy. Even its plastic has the right texture and color, which makes you feel like you're back in the 1980s. The button layout and quality are top-notch, as is the IPS display.
Its processor isn't on par with the RK3326 chip, so you can't run PS1 or Dreamcast games. Then again, there are no L and R shoulder buttons so you can't play a lot of PS1 and Dreamcast games. You get around 20 hours of playtime, even with the tiny 700mAh lithium-ion battery.
PowKiddy X18s
| Pros | Cons |
| --- | --- |
| Powered by a T618 octacore processor and Android 11 | More expensive compared to similar handheld consoles |
| 5.5" IPS touch display | |
| It plays N64 and PS1 games very well | |
The latest and greatest clamshell-style handheld from PowKiddy. It isn't meant to be used exclusively as a retro console, because it can run all sorts of games (even some newer ones). Powered by Android 11, the X18s lets you access Google's Play Store via Wi-Fi.
The X18s uses an octacore processor and has 4GB of RAM, so you can easily emulate PS1 and even GameCube games. Yeah, it's really expensive compared to something like the RG351MP. Then again, this isn't a dedicated retro handheld but an all-purpose portable Android device. 
GB Boy Color
| Pros | Cons |
| --- | --- |
| Can emulate GB, GB Color, and GBA games with ease | The display is quite tiny, so you won't feel comfortable playing it for over an hour |
| It easily runs all day without recharging | |
It's a Chinese clone of the classic GameBoy Color handheld from Nintendo. And the design is very close to the original GB Color. It accepts original GameBoy Color cartridges, and you even get some preloaded games when you purchase this console.
I'm certain these included games are unlicensed ROMs because most of them are Chinese localizations. However, the fact that you can purchase a GameBoy Color that is superior to the original for this cheap is just mind-boggling. Its display is vibrant and backlit, so you can actually play it in the dark, unlike Nintendo's original GameBoy Color. 
Ambernic RG300
Pros
Cons
The design and build quality are excellent 
The display has a limited viewing angle 
You get proper shoulder buttons and a D-pad that feels
like it was made by Nintendo
Audio sounds muffled because of speaker placement
The RG300 has everything you'd expect from a GameBoy Advance clone. It has two excellent shoulder buttons that are easy to press and feel very tactile. The display is bright enough for outdoor gaming with wide viewing angles.
And the battery runtime is over 10 hours on average. It charges really fast with Type-C and has excellent ABXY buttons. The D-Pad isn't mushy and has a nice clicky feel to it.
Emulation performance for NES, GameBoy, GameBoy Color, and Gameboy Advance games is perfect. SNES games don't have framerate problems, but the audio sometimes glitches out. 
PLAYGO
| Pros | Cons |
| --- | --- |
| 3.5" IPS display with tempered glass cover | Analog stick is hard to grab |
| Type-C port | Some of the preinstalled ROMs are in foreign languages |
| Comes with all the emulators you need, preinstalled on an SD card | |
Powered by a JZ4770 dual-core, this certainly isn't the fastest handheld out there. Still, it is more than adequate for running 8-bit and 16-bit games. You'll find that it even handles some old Sega arcade games from the 80s and 90s.
Overall, the design feels pretty compact and you won't have any issues with the build quality. Battery life is over 6 hours, and the display looks brilliant. 
Conclusion
What did you think of my list? Are there any other retro handhelds that you'd like to see on here? I'm sure there are tons more retro handheld consoles available for purchase.
There's a big difference between products made by brands that care and those looking to make a quick buck. Good retro handhelds have a huge community of developers and enthusiasts who stand behind these products. So you can expect constant software updates, patches, etc. as well tons of guides on how to set up your device.
If you found this article useful, you may want to save this pin below to your Gaming board.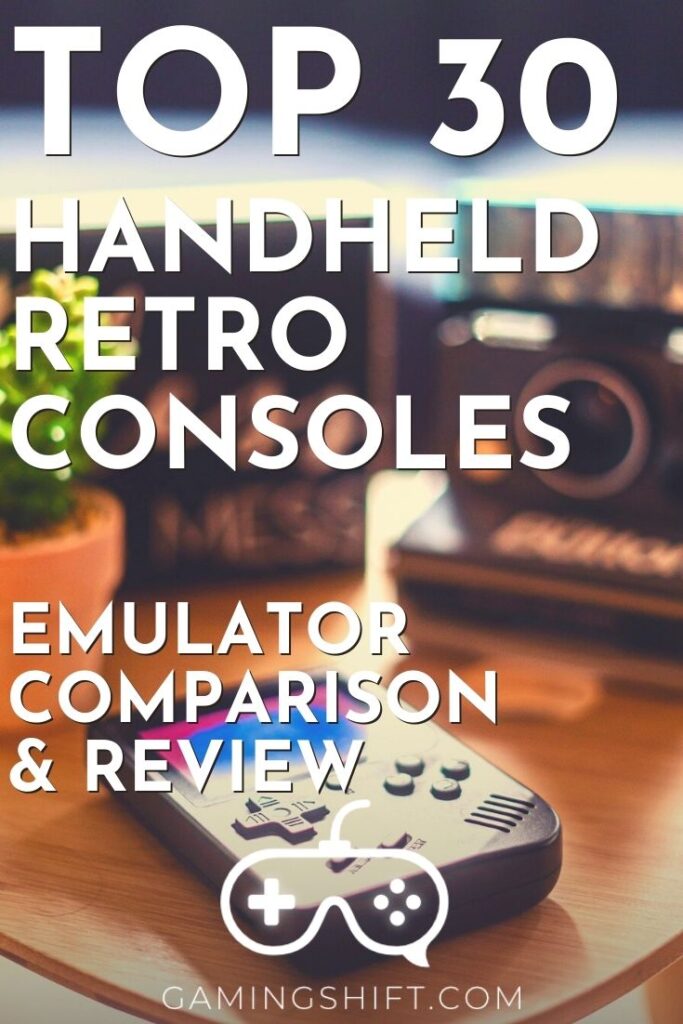 Last update on 2023-11-21 / Affiliate links / Images from Amazon Product Advertising API