When people build their dream gaming setup, they rarely pay attention to the desk. Yes, it is an extremely overlooked piece of equipment that actually has a significant impact on your experience. After all, it determines the way you sit and look at your screen.
The size of a desk is also quite important. Too small, and you'll have trouble fitting more than a monitor plus some accessories. Get one that's too large, and it'll look awkward if you don't have enough equipment to populate the desktop.
Today, I want to take a look at the top 20 budget gaming desks. What's the difference between a gaming desk and a normal office/ home desk? Not much, just a matter of style and gamer branding.
Some gaming desks come with features like built-in cable management and headphone/ cup holders. Pretty neat, but not nearly as important as the build quality and size. I'm here to make sure you don't buy plastic junk that looks good but bends and snaps once you put some weight on it.
With all that said, I don't want to promote something that's too extravagant or expensive. If you have the budget, premium gaming and office desks exist that are priced well above the 500 dollar mark. But this list is all about the 50 to 300 dollar range.
Top 5 Budget Gaming Desks Under $50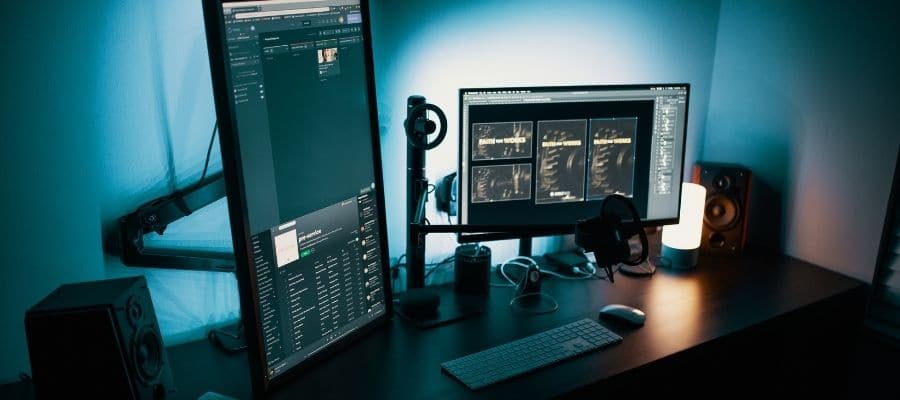 Polar Aurora K-Shaped Gaming Desk
Rectangular design with an inward curve at the front
Engineered wood top with a matte carbon fiber finish
Waterproof and scratch-resistant
45.1" x 28.6" x 30.3" (Width x Depth x Height)
160lbs max load
Metal K-shaped frame with red accents
Available with two different paint schemes (red and blue)
Built-in cable management grommet and power strip
Cup holder and headset hook included
This is probably the only desk at this price range that's large enough to hold a complete gaming setup including the monitor, PC, keyboard, mousepad, speakers, etc. The Aurora is fairly wide at 45 inches. For comparison, most other desks under 50 dollars measure 35 to 39 inches in width.
Have a 34" ultrawide monitor? Not an issue with this desk, plus it's made from a relatively sturdy fiberboard that can handle over 100lbs of load. You also get a cupholder and headset hook so that covers the convenience side of things that we look for in "gaming" desks.
Coleshome Desk
Tubular metal frame
Available with 3 different frame colors and 7 different top colors
Extremely easy to assemble
The top is made from P2 medium density fiberboard (MDF) 
Measures 39" x 20" x 29" (Width x Depth x Height)
Melamine veneer ensures heat and scratch resistance while also making the tabletop easy to clean
Do you want a bamboo desk surface with white legs? Or perhaps black on black? How about some blue and gold?
No matter what the rest of your work area looks like, you'll be able to get a Coleshome desk that fits right in. There are 7 different top colors and 3 different frame colors. You can get just the right color combination to match your gaming PC.
And as far as build quality is concerned, few companies provide such a well-built desk at this price. It uses a P2 MDF board with a melamine veneer laminate. The frame is simple and light, yet quite durable.
SHW Trestle Desk
Available in both black and oak finishes
Woodgrain laminated particleboard top
Sturdy metal frame 
Has two shelves for storage drives, routers, peripherals, etc.
Measures 43" x 20" x 30" (Width x Depth x Height)
Doesn't take a lot of space which makes it ideal for dorm rooms or tiny apartments
I really like this one because it's cheap and tough while also including two shelves. If you want cupholders or headset hooks, you will have to install those by yourself. However, shelves are far more versatile in terms of what they can hold.
Think books, USB drives, external hard drives, game disks, controllers, etc. You can store just about anything on the built-in shelves. I would prefer the all-black theme for gaming, but you can also get this desk in an oak color if you want. 
IDEALHOUSE Desk
One of the cheapest yet most durable desks at this price point
Laminated wood top with a classy walnut color
Double drawers, built into the metal frame
Two durable yet lightweight metal legs on either side
Very easy to move this table around between rooms because it weighs under 40lbs assembled
Measures 43.3" x 21.65" x 29.9" (Width x Depth x Height)
Waterproof and features rounded edges for safety
Do you want an old-school desk with a walnut finish that's durable and wide enough to accommodate all your gear? Well, check out the IDEALHOUSE desk because at 43 inches it's one of the widest desks under 50 dollars. Not as wide as the Aurora, and it also doesn't have a cupholder or headset hook.
However, it has two storage drawers. You could use these to keep your console, tablet, notebook, etc., and free up space on the desktop. The depth isn't much at 21.65" so you might have some trouble with gaming monitors that have giant stands. 
SHW Harrison
Available in both black and oak color
Sturdy particleboard top
U-shaped tubular metal frame with crossbars for additional support
Modular side shelf which can be installed on the left or right side
Adjustable feet so you can keep this desk stable on uneven floors
Measures 31" x 16" x 29" (Width x Depth x Height)
If you are building a gaming setup in your bedroom, you might want to go with the black version of this desk. It fits right in with most gaming PC cases and works well with gaming keyboards. The oak finish is good for people who want a more classic look and a natural aesthetic.
No matter which color you get, the SHW Harrison will serve you well. It's sturdy and comes with a modular side-shelf that attaches to either side. At 31" wide it won't accommodate a ton of stuff, and the depth is also pretty unexceptional at 16".
Top 5 Budget Gaming Desks Under $100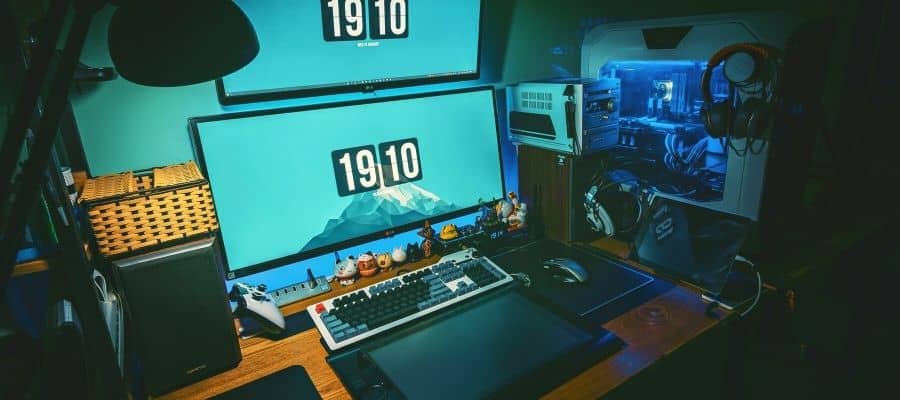 VANSPACE Gaming Desk
The high-quality fiberboard desktop can handle up to 250lbs of weight
T-shaped tubular metal frame with 4 adjustable feet to keep the desk stable on uneven surfaces
Carbon fiber finish on the top combined with a black and red theme makes this look absolutely stunning
Integrated power strip storage, 2 cable management grommets, cupholder, and headset hook
Measures 44.1" x 23.6" x 29.5" (Width x Depth x Height)
One thing I need to get out of the way is that all these desks with their so-called "Carbon Fiber" finishes aren't using real carbon fiber. I know, shocking that a 100 dollar computer desk doesn't use extremely expensive materials that are normally exclusive to motorsports and aeronautical engineering.
Nevertheless, desks like this VANSPACE are more than adequate for the price you are charged. They will support a computer, speakers, and 1 or 2 monitors without any flexing. You can also spill your drink and the only thing that will die is your keyboard since the wood in this desk is protected by plastic laminate. 
DESINO Gaming Desk
Available in 3 different sizes (40", 47", and 55")
Sleek and stylish design with a black + red color scheme
Carbon fiber finish on the top
Particleboard desktop combined with a metal frame makes for a sturdy desk
You get a headset hook and cupholder that easily screw onto the desk
The package also includes a monitor stand riser (you can leave it out if your monitor elevation is already good)
Measures 40" x 23" x 28" (Width x Depth x Height) for the 40" version
It looks edgy and modern but is extremely easy to assemble. And for those of you with old-school monitors that lack height adjustment, the monitor riser stand will come in handy. For most users, this riser elevates the monitor to a point where you have to crane your neck upwards in order to get a good view.
There is plenty of legroom with this desk since the front of the desk is curved slightly inwards which lets you sit closer to the keyboard. Plus, there are no bulky support arms going across the frame and obstructing your legs. 
Bestier Gaming Desk
Available in a wide variety of color combinations
Built-in RGB LED light strip
Monitor riser stand included in the package
Headset hook and cupholder for additional convenience while gaming
Has a K-frame version with an integrated shelf underneath the desktop
Supports up to 70 kilos or 154lbs of weight
Measures 43.9" x 23.6" x 35.8" (Width x Depth x Height)
Hey, have you ever wanted a really "Gamer" desk? You know, one with flashy lights and fake carbon fiber surfaces? Well, here's one for really cheap.
And the best part is that even if the lights fail, your desk won't quit on you. It's actually pretty sturdy for how light and compact it feels. The cupholder and headset hook are also nice to have while gaming. 
Homall Gaming Desk
Available in various colors- red, black, white, grey, pink, and carbon fiber black
Tons of legroom thanks to the inward cutout at the front and Z-shaped frame
Built-in cable grommets, headset hook, and cupholder
The textured anti-slip surface is waterproof and scratch-resistant
Stylish plastic trim that gives this desk an aggressive look (optional)
Adjustable pegs on the feet
Measures 44" x 23.6" x 29.3" (Width x Depth x Height)
It looks like a Lamborghini and is lighter than most bicycles, but can handle quite a bit of weight thanks to a metal frame and durable fiberboard top. A plastic laminate layer protects this desk from spills and scratches. Plus, it's textured and colored to look like carbon fiber which is always going to draw attention when friends check out your gaming setup.
If you don't want the flashy plastic trim pieces that add no functionality but exist to look cool, leave them out while assembling the desk. Cable management is easy thanks to two grommets, plus there's a hook for your headphone. And because gamers like to stay hydrated while gaming, you even get a cupholder. 
Mr IRONSTONE L-Shaped Desk
Ideal for placing in corners due to its L-shaped desktop
Can accommodate a ton of stuff, including two monitors
Available in 3 different color schemes
Desktop is made from P2 MDF board and the frame is made from powder-coated tubular steel
Adjustable pegs on the feet for stability on uneven surfaces
Both sides of the desktop are 50.8" wide with a depth of 18.2"
A monitor riser stand is also included
Desk height is 29.5", so you get a lot of legroom
A waterproof and scratch-resistant protective layer is applied to the particleboard desktop
There are many benefits to having an L-shaped desk. For starters, it offers more desk space compared to a rectangular desk. And it naturally fits into corners.
You can easily organize multiple monitors on this desk since each side is over 50 inches long. The depth is a little lacking at just 18.2 inches, so you might have to use monitor arms instead of the default stand. This desk can work for productivity, gaming, or just general-purpose home use.
Top 5 Budget Gaming Desks Under $200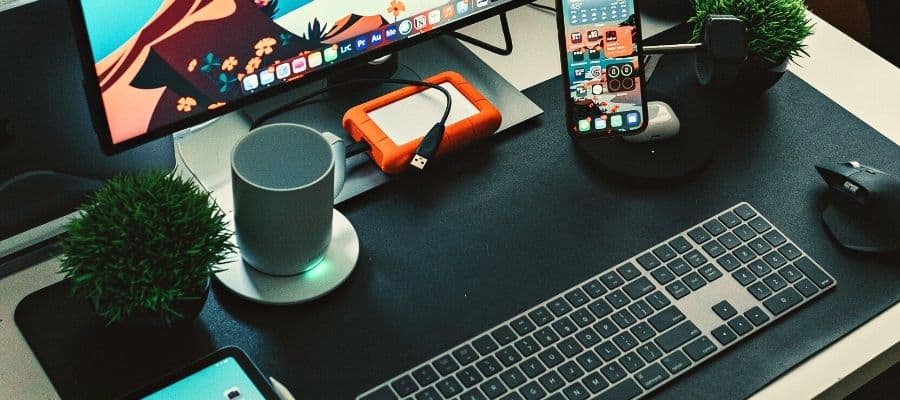 ESGAMING Gaming Desk
Integrated full-desk mousepad
Customizable RGB lights on both sides of the desk
Durable metal T-shaped frame and fiberboard desktop can handle a max load of up to 330lbs
Has cable grommets, a headset hook, and a cupholder
Adjustable pegs on the feet
No crossbars so you get plenty of legroom
Measures 55" x 23.6" x 29.5" (Width x Depth x Height)
Desktop is laminated with durable plastic which makes it waterproof and scratch-resistant
From the top, it might seem like this desk has a bunch of angles and sharp lines that might hurt if you rub them accidentally. But in reality, all edges and corners are rounded so you won't accidentally cut yourself while using this desk. And the desk surface is fully covered with an integrated mouse pad.
You can remove and clean the mousepad whenever you want, it isn't glued on. And the particleboard desktop is protected by a waterproof plastic laminate that has a nice texture to it. This textured surface prevents mousepads and other stuff from slipping around. 
Greesum Gaming Desk
Available in black, carbon fiber black, and red colors
The tough desktop can handle the weight of multiple monitors and large PCs
Comes with a tray under the desk that can hold your controller or a power strip/ surge protector
Built-in cupholder and headset hook
Comes with a full-desk mousemat 
Measures 43.8" x 24.8" x 30" (Width x Depth x Height)
In terms of shape and design, it's pretty similar to the ESGAMING desk. But at 44 inches wide, it's slightly smaller. You get 3 different color options, unlike the ESGAMING desk which only comes in black.
There are no customizable RGB lights either. Then again, this desk is a lot cheaper than the ESGAMING. It also comes with a specialized tray under the desk that can hold a power strip, controller, cables, etc. 
Sleepmax Gaming Desk
Available in 3 different sizes- 47", 55", and 63"
Uses a red and black color scheme with a carbon fiber finish
Laminated wood top with a metal frame, can handle up to 260lbs of weight
Adjustable pegs on the feet
Comes with a full-desk mousemat
Integrated cupholder and headset hook
Grommets for cable management
Underdesk tray for storing controllers or a power strip/ surge protector
Measures 55" x 23.6" x 29.5" (Width x Depth x Height)
Thanks to its width of 55 inches, the Sleepmax will easily accommodate multiple 27" 1440p monitors and a full tower computer case. If you've got a massive gaming PC with custom cooling and tons of lighting, this desk is perfect for you.
It's capable of handling over 200lbs of load and uses a sturdy laminated wood top supported by a T-shaped metal frame. Cable grommets make sure your desk looks clean without cables lying all over the place. And a full-desk mousemat is also included within the package. 
VITESSE Ergonomic Gaming Desk
Available in 3 different sizes- 44", 55", and 63"
Three color schemes- red, black, and carbon fiber black
Has a handle rack for your controllers with 4 USB charging ports
PVC laminate surface is extremely smooth, works well with gaming mice
Measures 63" x 29.5" x 29.5" (Width x Depth x Height)
Built-in cupholder and headset hook
Comes with a mousepad
With a width of 63", this desk is absolutely massive. Are there larger gaming desks? Sure, but not for under 200 dollars.
Plus, the fake carbon fiber finish on this one actually looks believable (more so than other desks at this price). It uses a Z-shaped metal frame with adjustable pegs on the feet and features an integrated cupholder. There's a stand on which you can place your controllers and game disks.
Seven Warrior Gaming Desk
Available in two versions- 40" and 55"
Engineered wood desktop supported by a Y-shaped metal stand
Adjustable footpegs
Cable grommets, headphone hooks, and controller stands are all built-in
Built-in power strip with 4 AC outlets and 2 USB ports
The textured plastic laminated surface is waterproof and scratch-resistant
RGB mousemat is included with the desk
At 40 inches, this isn't all that big when you compare it to other sub-200 dollar desks. But it is built extremely well and packs quality of life features. Take the full-length monitor stand, for instance, it stretches the entire 40 inches.
This means you can place two monitors on it, unlike other desks which have a tiny monitor riser. It even comes with an RGB mousepad and a built-in power strip. The power strip lets you connect peripherals like speakers, LED strips, etc. without having to run a bunch of cables to a far-away wall outlet. 
Top 5 Budget Gaming Desks Under $300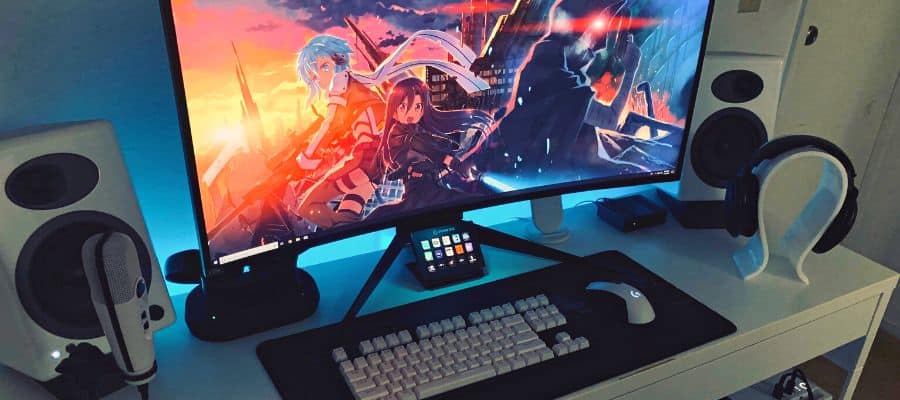 Eureka Ergonomic Gaming Desk
Extremely wide at 60 inches, can fit triple monitor setups
You'll never have to walk to an outlet since this desk includes a power strip with 4 USB ports
Full desk mousemat included alongside the desk
Double headset hooks and a cupholder to keep your favorite beverage at your side while gaming
Handle rack for your controllers and game disks
Grommets for easy cable management
Measures 60" x 27.5" x 30.1" (Width x Depth x Height)
Simple and elegant, yet stylish enough for gamers. The Eureka has a rectangular shape with a slight inwards curve at the front. This curve is designed to keep you closer to the keyboard.
The desk is deep enough (27.5 inches) that you'll have no trouble getting a nice distance between your eyes and the monitor. About one arm's length is what I'd recommend for a good viewing experience. The desktop is made from sturdy particleboard and you can easily attach monitor stands/ arms for 2 or 3 monitor setups. 
DESIGNA Gaming Desk
The wide desktop can accommodate both your PC and console along with multiple monitors
Sturdy and durable design 
Metal Z-frame supports a laminated wood top with a textured plastic finish
Included mousemat with anti-fraying stitched edges
Built-in headphone hook, controller stand, and cupholder
RGB lighting on either side of the desk with multiple presets
Grommets for cable management
Measures 61" x 25" x 30" (Width x Depth x Height)
At over 60 inches wide, you're getting plenty of surface area with this DESIGNA desk. Want to keep your console, notebook, and computer all on the same desk? This might be perfect for you.
It even includes a mousemat with stitched edges that covers the entire desktop. This provides a grippy and stable surface for all your stuff, plus you don't have to bother with purchasing a separate mousepad. RGB lights are built into the frame, and you get tons of legroom thanks to the Z-shaped frame.
Sedeta Gaming Desk
Available in black and white color schemes
Tons of shelf space for all your speakers, controllers, storage drives, lights, etc.
Built-in monitor riser
Has trays on both sides for your computer case
P2 MDF board and heavy gauge metal frame ensures durability
The overall dimensions are 72" x 23.6" x 59.8" (Width x Depth x Height)
The desktop measures 55" wide and 23.6" deep
The maximum load-bearing capacity is 500lbs
Do you like shelves and stands on your computer desk? In that case, check out the SEDETA desk. It's filled with shelves and stands from top to bottom, including two shelves on either side that can be used to hold your computer.
You can even mount two computers onto this desk with multiple monitors since it's really wide. The actual desktop itself is 55" wide, but the overall width is 72" if you include the frame and side shelves. A monitor riser stand is built into the desk, and you have separate shelves for speakers.
AuAg Gaming Desk
Massive 62.6" wide desktop holds all your monitors and accessories
Included mousemat covers the entire desk
The T-shaped metal frame is built tough and can handle 250lbs of load
Plenty of space between the legs and table sides for mounting microphone and monitor stands
Grommets for cable management
Built-in headset hook and cupholder
Cable routing box underneath the desktop
Measures 62.6" x 29.5" x 30" (Width x Depth x Height)
The fake carbon fiber finish on this desk looks unique and has a grippy texture to it which prevents your monitor or keyboard from sliding around. To make assembly easier, the desk surface is broken up into two separate pieces. This also makes transportation easier if you're moving the desk to a different room.
In terms of construction and build quality, the AuAg feels rock solid. It has a durable T-shaped metal frame with build in headset hooks and cable management. You also get a full-desk mousemat and cupholder.
FLEXISPOT Adjustable Gaming Desk 
Extremely easy cable management thanks to cable net and grommets
Wide 63" particle board desktop with waterproof and scratch-resistant plastic laminate
Carbon fiber finish looks cool
Included mousemat has stitched edges and covers the entire desktop
Built-in headset hook and cupholder
Measures 63" x 28" x 29" (Width x Depth x Height)
Desktop is made up of two separate pieces which make assembly and transportation very easy
One of the few gaming desks with height adjustment, the FLEXISPOT has 3 different settings. You can set it at 28", 30", or 32". As long as you're between 5 and 6.5 feet tall, you should have a great time with this desk.
The adjustable legs mean you get a nice arm and wrist angle no matter the type of chair you're using. This reduces fatigue while gaming and improves blood flow which helps with focus and reaction speed. Plus the FLEXISPOT has built-in cable management nets and grommets to reduce clutter.
Conclusion
As is the case with most products, you get what you pay for. Cheap doesn't necessarily mean bad. But there are several fly-by-night Chinese companies peddling poorly made desks with fancy logos and gamer branding.
I try my best to stay away from such manufacturers and thoroughly research every item on this list to make sure they meet my quality standards. Pay attention to three things- desk height, width, and depth. These 3 parameters will make sure you get a desk that is comfortable to use while accommodating all of your equipment.
Cheaper desks typically used laminated wood and particleboard. You'll also find plenty of plastic desks in the 50 to 100 dollar price range. For gaming, you don't necessarily need keyboard drawers or shelves. However, headphone/ controller stands are good to have, alongside grommets for cable management.
If you found this article useful, you may want to save this pin below to your Gaming board.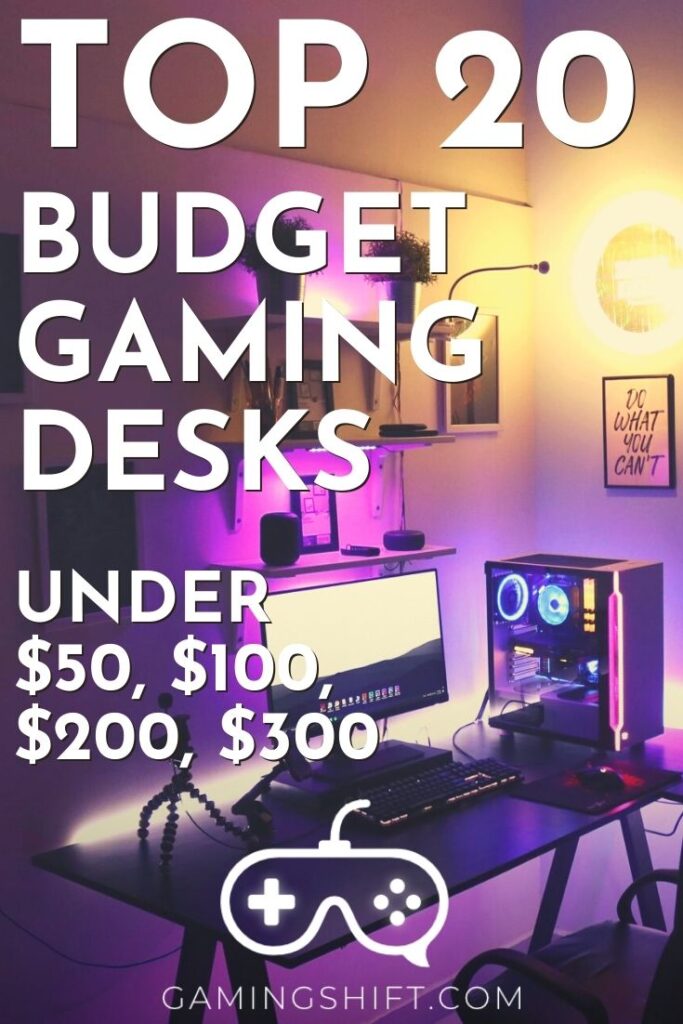 Last update on 2023-09-16 / Affiliate links / Images from Amazon Product Advertising API