For the longest time in history, people would just on whatever natural surface was around them. Whether it was the ground outside or the floor of their house. Even today in countries like Indian and Japan, sitting on the floor using mats is a common practice.
Some say it improves your lower body's flexibility by stretching out the hip and leg joints. Others just consider it a more comfortable way of sitting. But what about gaming with a floor chair?
Well, to answer your question- yes, it's very much doable. In fact, console gamers who grew up during the 90s and early 2000s will tell you it was quite common. You would just sit with your buddies on the floor in front of a TV, and enjoy some games.
Here are the top 20 floor gaming chairs in 2022. You could gift these to your kids or use them yourself while gaming. Many of these floor gaming chairs are a lot cheaper compared to regular gaming chairs.
X Rocker Pro Series H3
Built-in electronics
Dual speakers in the headrest
Subwoofers
Vibration motors
Metal frame
Faux leather upholstery
Armrests
Can't talk about floor gaming chairs without mentioning X Rocker. These guys make the best chairs for anyone who's interested in floor gaming. You get features like Bluetooth, built-in speakers, vibration motors, etc. in their premium chairs that really elevate your gaming experience.
The Pro Series H3 even has subwoofers for that extra bass and can play all sorts of audio formats. Oh, you love rumble in your controllers? How about a whole chair that rumbles, now that's what I call real gaming.
No, the vibration isn't too overpowering or distracting but you will know it's there. And the build quality feels solid too, this isn't some flimsy pile of fake leather and plastic that will fall apart within 2 months. The chair has armrests and will fold up for storage.
The Crew Furniture Classic Video Rocker
Simple and elegant design
Combination of faux leather and fabric upholstery
Durable and soft cushioning
Ideal for kids of all ages
Available in several color combinations
It's a rocking chair just like the Pro Series H3 but costs a lot less. Yeah, there are no built-in electronics but you still get a very comfy floor chair that's suitable for people of all sizes. And it comes in several color combinations so you can get just the right setup for your gaming room.
The underlying frame is actually made from wood which is why it's quite light yet robust. On top, is a cushioning layer made from polyurethane foam. The upholstery is fake leather, but both sides have a strip of breathable mesh to add some ventilation.
FDP Soft Youth Floor Video Rocker
The sleek and inconspicuous design fits anywhere from your gaming room to the workplace
A tall backrest ensures adequate support for your upper back and head
Faux leather polyurethane exterior is very easy to wipe clean and is practically waterproof
The frame is strong enough to support over 200lbs of weight
It looks just like the Classic Video Rocker by The Crew, but this chair is designed differently. First off, the entire chair is covered in fake leather material. No, it's not flimsy and feels quite soft to sit on.
However, this chair's materials don't breathe very well which can be an issue during summer. On the plus side, if you do spill a drink it's extremely easy to clean, unlike mesh chairs which will soak up all the liquid. And it's also available in 3 different color combinations.
X Rocker Eclipse 2.0 BT
Reclining and rocking functionality, both available in just one chair
Bluetooth lets you play music from your phone or console wirelessly
Easily accessible volume control for speakers
Mesh in the back and seat for breathability 
Folds up for easy storage
Another X Rocker chair, this one doesn't have the fancy multi-channel audio system that we saw in the H3. However, it is equipped with Bluetooth connectivity so you can play your music wirelessly. There are 2 speakers built into the headrest itself, along with audio controls near your thigh for easy access.
With a maximum supported weight of 275lbs, this chair is built tough. It has a tall back with a mesh section in the middle so you don't have to worry about sweating under heat. The unique curved shape is ideal for lounging in your living room while watching movies or playing games. 
Best Choice Products Swivel Floor Gaming Chair
Tubular steel frame
Padded armrests
Linen upholstery
Available in several color schemes
Removable 360° swivel base
 You've seen floor gaming chairs that rock back and forth, but what about one that swivels around? This swivel chair sits really low to the ground and has a steel base so it's actually quite strong. And the microfiber mesh cover is very breathable.
It has a little bit of soft foam padding on the armrest, to keep you nice and comfy while gaming. You can fold the top down for storage, or push it back for reclining. There are multiple color options and the base is designed to let this chair turn a full 360°.
bonVIVO Floor Chair
Very compact and easy to carry around
Perfect folding design
Ideal for both indoor and outdoor activities
Works as a chair and recliner
The fabric cover is easy to remove and clean
At first glance, this looks like one of those recliners you'd find at the side of a pool. Minus the frame. However, this is actually a fully functional chair that can be used for multiple purposes.
Sitting, sleeping (if you're a kid), reclining, etc. It works for gaming, reading, and watching movies. You can even take it outdoors thanks to the folding design and stain-resistant fabric cover. The chair's back shouldn't be relied on to support adults, it's best if you angle it against something else.
BIRDROCK Home Adjustable Memory Foam Floor Chair
Extensive foam padding ensures long-lasting comfort
Fabric upholstery with a velvety smooth feel
Comes in 6 different colors
Ideal for kids and teenagers
It's not very big, and the backrest is only 22" tall. If you're an adult male, this probably isn't the best choice for you. However, it is excellent for girls and small kids due to its cute design and compact size.
The chair works as a recliner and has 14 different adjustable positions. The backrest isn't designed to support heavy loads, so don't rely on it to hold your bodyweight if you're over 150lbs. Foam padding is quite thick and comfortable, you can comfortably sit on this chair for hours on end. 
WAYTRIM Adjustable Floor Gaming Chair
Has extra padding around the thigh and knee areas
Uses a metal frame
Pocket built into the rear for storing game disks and books
Can be laid out completely flat like a makeshift bed
Breathable fabric upholstery
Available in 8 different colors
The WAYTRIM adjustable floor gaming chair looks very much like the BIRDROCK, except this one has a slightly taller backrest. If you're an adult male above 6 feet in height, this chair might not be ideal but it will still work. Unlike the BIRDROCK which absolutely isn't designed for larger people.
An internal adjustable frame has 5 different locking positions that keep your back supported while you relax. The fabric upholstery is made from cotton and linen so it's quite comfy and breathable. If you want to store game disks, USB drives, books, etc., there is a pocket built into the back of this chair. 
X-Rocker Surge Bluetooth 2.1
Integrated 2.1 sound system with stereo speakers and a 4" subwoofer
Metal frame
Faux leather upholstery
Designed to look like a racing car seat
Bluetooth 
Ergonomic design with support for your shoulders, lower back, and thighs
Since the entire upholstery is faux leather, X Rocker had to cut a literal hole in the back of this chair. It provides some much-needed ventilation for your back to reduce sweating while you game. Other than that, the rest of the chair is actually quite sleek and well-designed.
There is plenty of padding to support people over 250lbs, and the frame is made from metal. A 4" subwoofer and dual-headrest speakers provide some nice audio while gaming. Bluetooth is supported for wireless music playback and the whole chair folds up for storage.
Morcoe High Back Folding Floor Gaming Chair
Very thick foam padding on the back and seat
A different version of this chair is available with an armrest built-in
Multiple color options, including two-tone designs
360° swivel base
Foldable for easy storage
Thick foam padding, spring support, and a tubular steel frame- the Morcoe is a very comfortable floor gaming chair at an affordable price. It's ideal for relaxing in the living room while reading a book or playing games on your TV. You can also use it as a work chair thanks to the 5-position adjustable backrest and removable swivel base.
Want to play some games on your handheld device? The Morcoe is perfect for that due to its 360° swivel base and high back. If you are concerned about airflow, don't worry- this chair uses a breathable and lightweight linen fabric.
Oristus Swivel Floor Gaming Chair
The slightly raised front seat puts you in a reclined position naturally
Armrests are padded with foam and covered with polyester covers
Comes in 7 different colors, both with and without armrests
The high back is ideal for adult males
Breathable mesh fabric upholstery
In terms of looks and design, it's identical to the Best Choice Products swivel chair which leads me to believe that both are made by the same Chinese OEM. They are just rebranded with slightly different specifications. This Oristus chair has a slightly shorter backrest and a different color scheme, although both brands offer the same chair with various color combinations.
Just like the Best Choice chair, you get a detachable swivel base that lets you spin a full 360° while sitting close to the floor. There's an armrest too, made out of tubular steel allow and covered with a foam padding layer. 
Amazon Basics Swivel Compact Floor Chair
Simple yet functional design
Very well made for its price
Elegant 3-tone color scheme
Fabric upholstery that's both breathable and easy to clean
High-density foam cushioning
360° swivel base
You might be familiar with the Amazon Basics brand. It's basically rebranded stuff that Amazon purchases from a 3rd party and sells at affordable rates exclusively on their platform. Are these products the best in terms of quality?
Not really, but they do meet a minimum standard that is good enough for most users. The Amazon Basics Swivel floor chair is comfortable to sit on, well-built, and can be had in several interesting colors. There are both high and low back designs with linen upholstery.
X Rocker Galaxy 2.0 BT
Versatile and rugged design
Rocks very easily
Faux leather upholstery, virtually spill-proof
Built-in stereo speakers
Bluetooth
Metal frame
It can be sat upright, folded down into a package the size of a briefcase, and laid out flat. The X Rocker Galaxy is an extremely versatile chair that offers built-in audio and Bluetooth at very affordable prices. It costs a lot less than the Pro Series H3, which is why you don't get any armrests or subwoofers.
The padding has also been reduced, but there's still plenty to keep a 250lb man comfortable for several hours of gaming. The upholstery is faux leather so it looks sleek and is easy to clean. But I'm not a big fan of cheap fake leather since it makes weird sounds as you slide around and is not very breathable.
Giantex Floor Folding Gaming Chair
Works as a recliner and chair
Can even be a temporary bed for kids
Loads of high-density foam padding
Adjustable backrest
Works for study, work, gaming, and other activities
This Giantex floor chair is thickly padded with a strong underlying frame made from metal. It has these neat foam "bubbles" that support your legs and back. Plus the cushioning itself is quite resilient and won't deform over time.
If you just want to play some games on your Xbox or PlayStation while sitting on the floor, this chair is perfect. It's also great for reading books with your kids or watching a movie with friends and family. The backrest has an 84.5° range of motion so you can set it to 14 different positions.
malu Luxury Padded Floor Chair
All-purpose floor chair, perfect for everything from exercise to recreational activity
Just pull back a zipper to remove the cover
Has a carry strap and folds up for easy transportation
The spill-resistant fabric cover is comfy and smooth to sit on
Now, this is what I call an all-rounder, the malu isn't just good for floor gaming but it also works for literally everything else. If you want a device that helps you sit on the floor, this is it. It works as well on a living room hardwood floor as it does on the soil of a camping ground.
You can even fold it up and carry it with you to the gym thanks to the handy carry strap. The entire cover can be removed for easy machine washing.
And the internal frame is made from metal. So you don't have to worry about this chair snapping in half when you press against it.
VINGLI Floor Gaming Chair
One of the few floor chairs with actual lumbar support
Simple yet rugged design with a metal frame and adjustable backrest
Has a 360° swivel base
Comes in black, brown, and grey colors
Hey, a floor gaming chair is pretty neat but what about one with lumbar support? You might have back problems and sitting in a chair with no additional padding for the lower back will feel awkward. Well, the VINGLI floor gaming chair has a pillow for lumbar support.
Plus, the back can be adjusted to fit your sitting style. It won't go all the way down 180°, but you should still be comfortable while gaming or watching TV. And there is a swivel base too, so you can spin around if you feel like it.
Merax Sleeper Floor Chair
No products found.
Bucket seat design
Bright and attractive color
360° swivel base
The base can be removed and the chair can be folded for storage/ transportation
Fabric upholstery is breathable and soft to the touch
One of the only floor chairs actually wide enough for you to sit cross-legged. And the foam padding is also quite thick so you can use it as a recliner. The foam feels soft but not so pliable that it gets squished when you sit on it.
In fact, there is a slight bounciness to the chair. This bouncy padding feels great when you're tired and just decide to drop your body into the chair. Don't worry, it's actually quite sturdy thanks to an internal metal frame and will handle close to 200lbs of weight. 
Yaheetech Adjustable Floor Gaming Chair
14-position backrest adjustment
Velvety smooth polyester upholstery
Available in light or dark grey color
Folding design works as a recliner and chair
The padding conforms to the contours of your back and legs
Think of this as a portable bed that also functions as a chair while gaming or watching TV. It's 21" wide and 44" long when fully laid out in its flat position. But if you want to use it as a chair, there are 14 adjustable positions that you can switch through.
And the maximum weight capacity is close to 200lbs in chair mode, so average-sized males should be just fine with this chair. The material used for upholstery is a breathable synthetic fabric that resembles linen. A 5-inch thick polyurethane foam padding is applied on top of the internal metal frame to keep you comfortable. 
GameRider Nitro II Floor Gaming Chair
Comfy and lightweight rocker with a racing aesthetic
Relatively affordable compared to other chairs of this type
The foldable design ensures compactness for easy storage
A tall backrest provides complete support for your back, neck, and head
With its aggressive red racing stripes and black mesh fabric upholstery, this chair looks quite unique. It's a rocker, so you can rock it back and forth while watching a movie or reading a book. There's a slight bump on the top that acts as a supplementary headrest for when you really need to lay back and focus.
One of the nice things about these types of rocking chairs is that they require no assembly. No need to fiddle around with screwdrivers and wrenches, just pull the chair out of its packaging and unfold it. The same applies when you are trying to stow away the chair in some closet or room corner.
FLOGUOR Swivel Gaming Floor Chair
Works as a lounge chair/ sofa
Extremely comfy armrests
Understated design, fits right into any room
360° swivel base
Breathable fabric upholstery
It honestly feels more like a weird sofa than a gaming chair. And that might be a good thing for some of you who don't want a chair that draws too much attention with flashy lights and aggressive styling. Plus, these armrests are actually very comfortable thanks to the massive amounts of foam padding inside them.
Most armrests in the so-called gaming chairs are quite hard. As a result, they restrict blood flow to your wrist and fingers after you use them for a couple of hours. Not only does this chair have usable armrests, but it also features copious amounts of cushioning and a very breathable fabric cover.
Conclusion
I don't know about you, but sitting cross-legged on the floor feels quite relaxing. During winter, it isn't nearly as comfortable. This is why I recommend a floor chair; it helps insulate your body from the cold surface underneath.
Plus, these floor gaming chairs are extremely compact and can be folded away for storage when you're not using them. They are so light, even a 10-year old kid can carry one of these from room to room. So get off that office chair, sit on the ground, and get some blood flow back in your hips and legs.
If you found this article useful, you may want to save this pin below to your Gaming board.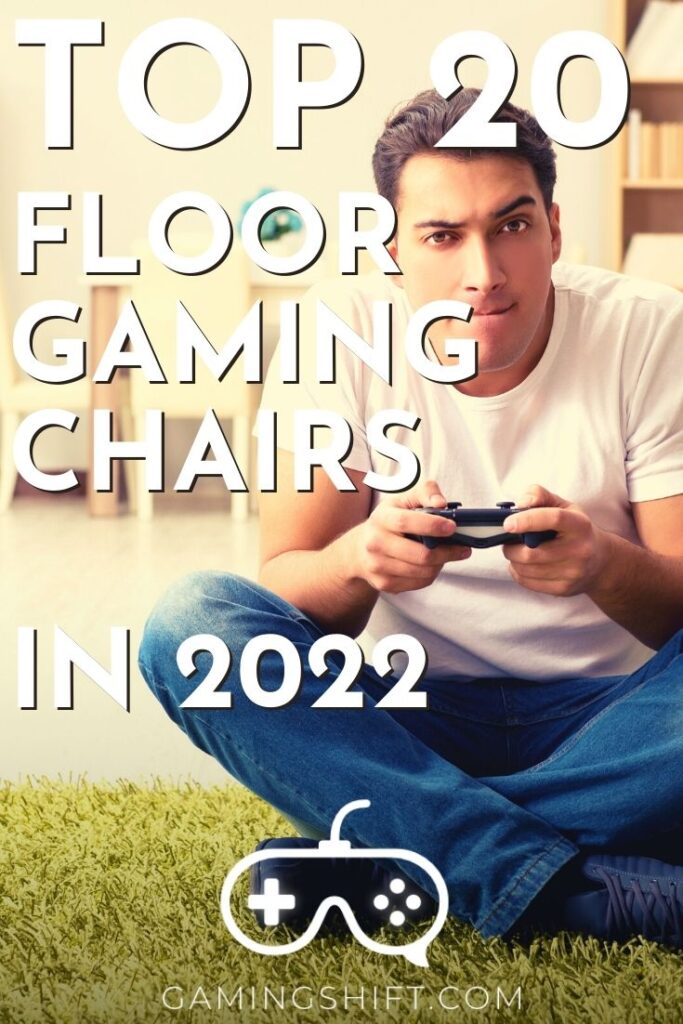 Last update on 2023-09-19 / Affiliate links / Images from Amazon Product Advertising API