Have you ever thought of replaying old classic games? You might get hit by a dose of nostalgia, or (if you are younger) you might want to see how it all began and what are some of the popular games you could play on PCs. 
Whatever your reasoning may be, you'll be delighted to know that there are numerous websites dedicated to playing DOS games that are a couple of decades old. And the best thing about them is that you can find ones where you can play games without paying a single dime. 
Here, I will focus on websites where you don't have to pay anything to play old DOS games. This means that I won't include platforms like GOG or Steam, or anything else where payment is required. Instead, the idea is to check out websites that offer either download or online games for free. 
Abandonware DOS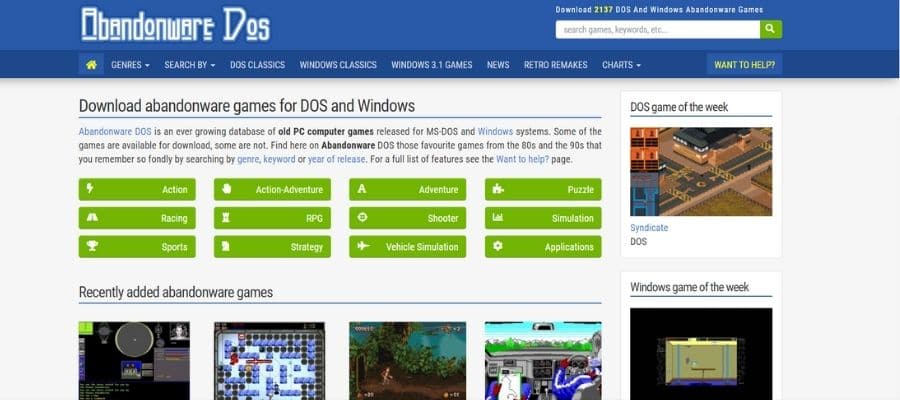 The first entry on the list is Abandonware DOS. The website focuses on DOS versions of video games that were released during the eighties and nineties. Abandonware DOS offers over 2,000 games you can try out, and genres involve anything from racing to RPG. 
Naturally, the easiest way to navigate the site is if you already know what you're searching for, and you can enter a keyword or part of the title. Furthermore, you also get the opportunity to browse games by genre. 
It is worth mentioning that you can't play any game online on this website, and you will need to download it if you want to try it out. The download process is simple, and only two clicks are separating you from your game. 
Once you download the .zip file, you will also need to use an emulator like DOSBox or D-Fend Reloaded. And if you plan on running a Windows game, there is a chance that you'll need a virtual machine. 
If all of this sounds complex to you, fear not. You can just follow the instructions on their page, and you'll be able to run any game in no time. 
Among the most popular titles you can find on Abandonware DOS are Command & Conquer: Red Alert, Civilization, Doom (yes, the original one), Duke Nukem, and of course, Prince of Persia. 
DOS Games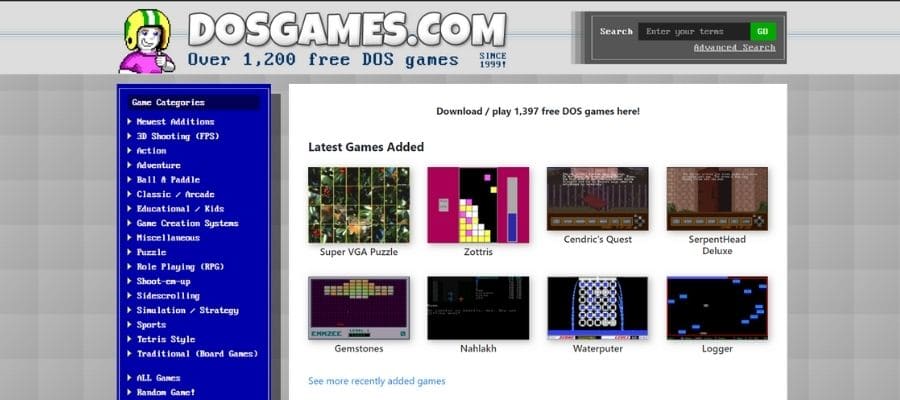 The next website on the list is DOS Games. The library is a bit smaller than the one you'll find at Abandonware Games, but there are still excellent titles you can try out. Currently, DOS Games offers over 1,000 games, and you can download them in just a few steps. 
As with the previous entry, you can easily navigate the site, and find a game you like using either a keyword or part of the title. The genres include FPS, action-adventure, classic, puzzle, sports, strategies, and many others. 
When you select a game, you will get plenty of information like who is the developer, category, license, whether it is a single-player or multiplayer, release date, resolution, and many others. 
What is interesting here is that DOS Games will allow you to play some games using your browser. The website will run an emulator, and you can start playing in just a couple of seconds. Unfortunately, you won't get a chance to save the game while using your browser. The only way to save progress is to download the .exe file and run it from your PC. 
The titles you can find include: X-Men Children of the Atom, Doom, Quake, Wolfenstein 3D, Duke Nukem 3D, Super Street Fighter II Turbo, and many others. 
Free Game Downloads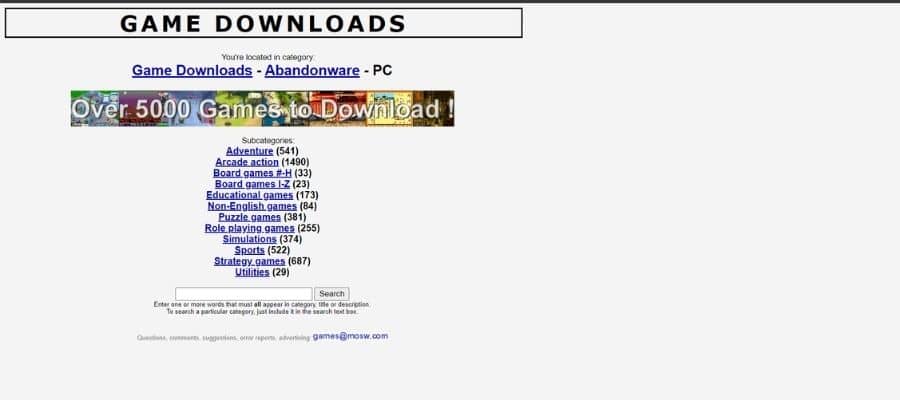 Probably the first thing you'll notice when you visit Free Game Downloads is the simplistic design. There is no chance that you will get lost on the website, and everything is pretty straight-forward. 
Free Game Downloads offers an impressive library with 5,000 titles! The categories you can find are adventure, arcade action, board games, educational games, non-English games, puzzle games, RPG, simulations, sports, and strategies. 
The navigation is a bit clunky, and you will need to open the title to see some kind of a preview. Unlike other pages, there is no way to browse games with screenshots, and you will need to know precisely what you're looking for. 
There is no search button as well, so you will need to remember the title of the game (and category) if you wish to find it. 
If you can get past the horrible UI, Free Game Downloads is an excellent choice. Just remember that you will need to know the exact title of the game if you hope to avoid randomly clicking on everything available. 
Free Classic DOS Games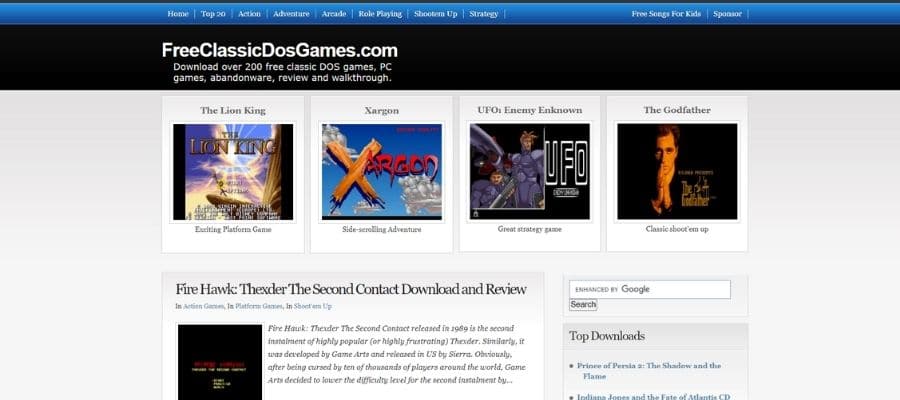 Free Classic DOS Games is relatively smaller compared to the previous ones, and they offer around 200 games you can download. One of the interesting additions is that each game on Free Classic DOS Games comes with a review as well. 
You can see screenshots, and details about the plot, gameplay, and everything you need to know about the game. Once you click the download button, it will redirect you to instructions on how to download it and what you need to do to play the game you like. 
The site offers several categories for you to check out like action, adventure, arcade, role-playing, shootem up, strategy, and top 20. There is also a search bar, and an option to see top downloaded games. 
The website has games like Doom 2, Indiana Jones and the Last Crusade, Monkey Island 2, Prince of Persia 2, and many more. It has a decent set of games, and even though the choice is not as impressive as with other websites, it is still worth checking out. 
RGB Classic Games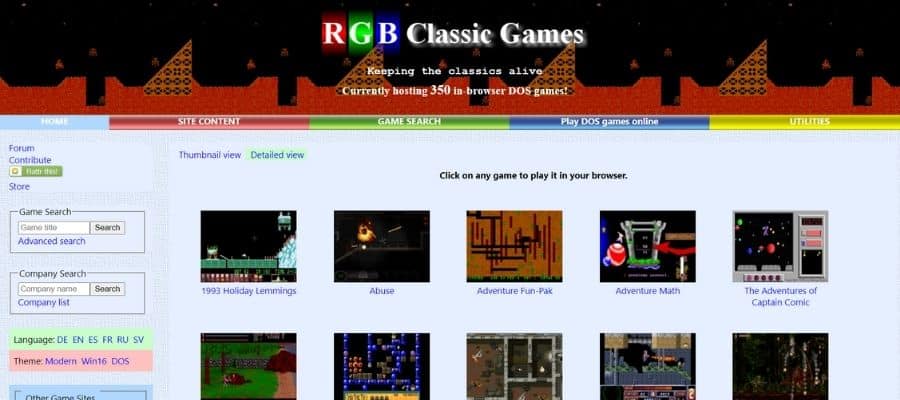 RGB Classic Games is another website that offers incredible, vintage games. Here, you will get a chance to try them out using your browser, and there is no need for you to download anything to play some of the classics. 
The website is perfect for all those casual gamers out there who just want to get their dose of nostalgia without having to download anything. Currently, RGB Classic Games offers 350 DOS games and each of them is available online. 
Among the titles you can find here are Alone in the Dark, Doom, Blood, Duke Nukem, Earthworm Jim, Jazz Jackrabbit, The Lion King, Quake, and others. 
Interestingly, the website also offers some of the newer titles as well. This includes Lizard (released in 2018), Snake (from 2012), and many more. You can choose to sort games by date, developers, publishers, genres, and name. 

There is also a forum you can check out to talk to other members, find answers to your questions, and get interviews and utilities that might be handy during your gameplay. 
Free Game Empire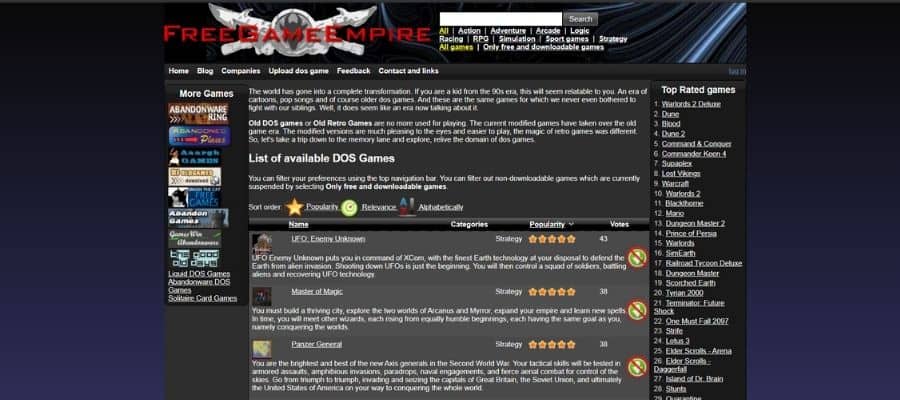 The next stop is Free Game Empire. The website offers over 1,000 games, and they are all playable using only your browser. However, it is possible that some games will require you to download something, but it won't take you a lot of time, and you'll be ready to play games rather fast. 
One of the best things about Free Game Empire is that you can select games that are available at the moment. Whether it is due to problems with the servers or publishers, some games can't be played. The website made it easy for users to filter out games that aren't available for download, and to focus on those that are free and can be played. 
Free Game Empire offers a nice selection of classic titles, and you can try out Doom, Command & Conquer, Blood, X-COM: Terror From The Deep, X-Wing, Warcraft, and countless others. 
The website is easy to use, you can browse games by popularity, genre, check out the most played ones, or use the search bar to find a specific title. All things considered, Free Game Empire is a great choice, it's easy to use, and there is a high chance that you'll find a game you'll enjoy.
Play.VG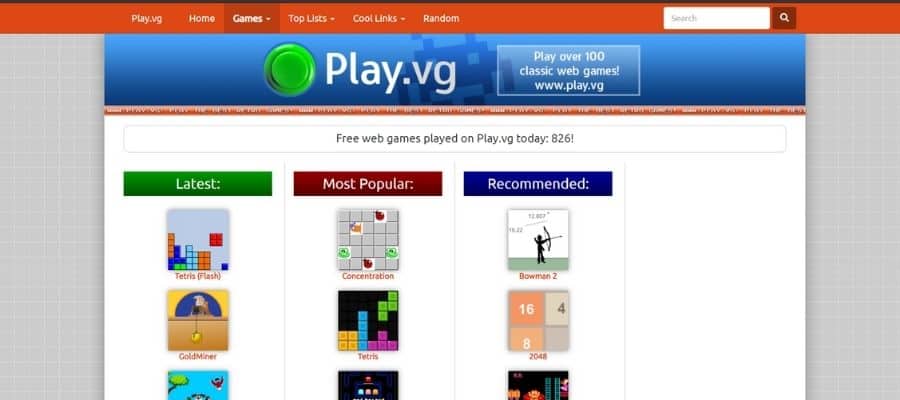 For those that aren't willing to go through all the trouble of installing emulators or any other type of software, Play.VG might be a perfect choice. Even though the library is not as impressive as some other websites, all games you can find are available online and almost instantly.
Play.VG is an interesting combination of vintage games and some newer titles. Of course, the newer games are still designed to look like traditional games, and they can also be played in the browser. 
As for the real vintage DOS games, you can check out Prince of Persia, versions of Sonic the Hedgehog, Tetris, Pac-Man, Donkey Kong, Frogger, and many other games. While the majority of these are not exclusive to DOS, it is still nice to try them out if you missed them when they were new. 
There is also an option to try out some of the games with other players or to choose to play against the computer. Either way, there are some interesting titles that you might want to check out. 
My Abandonware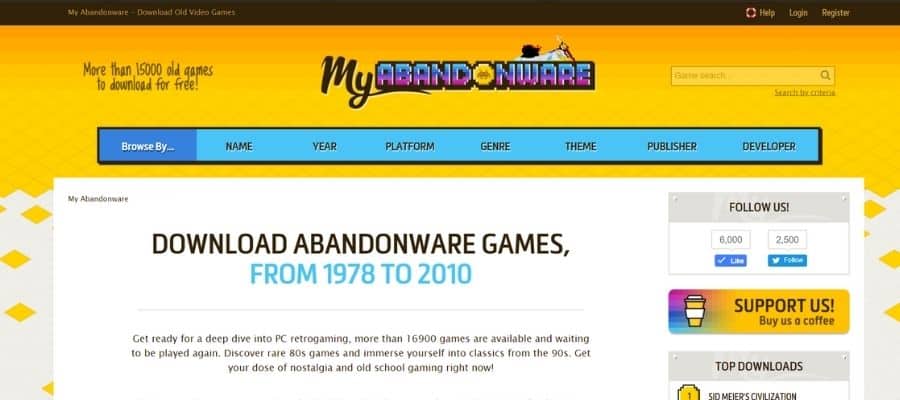 The next entry on the list is My Abandonware. As with other websites on the list, My Abandonware is not focused solely on DOS games, and you can find numerous other old titles. The site offers over 15,000 games, which is more than incredible. 
For each of the titles, you can choose whether you want to download it or play it in your browser. For those that are interested in DOS games only, you can select the platform in the menu, and browse titles that were released for this OS. 
My Abandonware also offers detailed info for each of the games, and you can see the list of platforms it was released on, publisher, date, genre, and many others. All games also come with a detailed description and an impressive amount of screenshots. 
The website offers an incredible amount of games, and you can find nearly anything from vintage classics to modern indie games. 
Games Nostalgia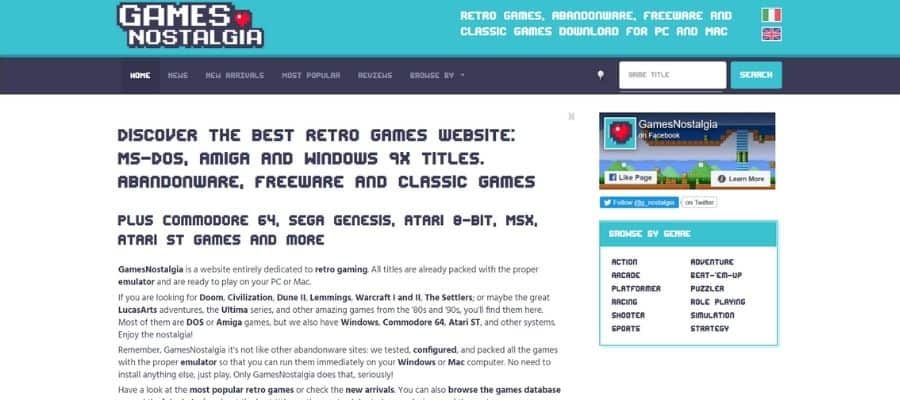 As you could have guessed from the name, Games Nostalgia is another excellent choice when it comes to old games. The website uses fonts that will undoubtedly trigger people's nostalgia, but it has all the benefits that come from the modern age. 
You can browse games by year, genre, developer, publisher, tag, and even use a search bar. Naturally, not all titles are exclusive for DOS, and you can find numerous other platforms as well. 
Among the popular games you can find are Doom, Sid Meier's Civilization, Prince of Persia, Settlers, Wolfenstein 3D, Red Alert, Tomb Raider, Warcraft, and many others. There are also some "newer" games like Disney's Hercules, Tarzan, and Halo that you might want to try out as well. 
Games Nostalgia is easy to use, and all titles come with a review, screenshots, and several options for download. Since there are a lot of newer games on Games Nostalgia, the only way to play them is by downloading them, and there is no online option at the moment. 
The website offers games from DOS, Atari, Amiga, Commodore 64, and many other platforms, and each of the games is configured to run on either Windows or Mac. This means that you won't need to download anything else to play some of the incredible titles Games Nostalgia offers. 
DOS Games Archive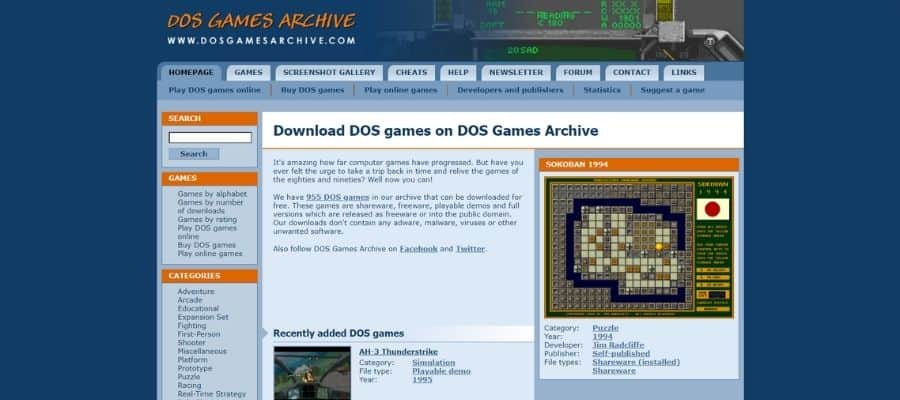 The final entry on the list is DOS Games Archive. Currently, DOS Games Archive offers 955 video games you can download and play for free. It is a collection of freeware, shareware, playable demos, and full games that were released either as freeware or into the public domain.
The site is easy to navigate, and you can always use the search option. The games are sorted alphabetically, by popularity (number of downloads), rating, or year. You can also choose to browse freeware, playable demos, shareware, or to find the game based on the genre. 
Among the titles you can find on DOS Games Archive are Doom, Wolfenstein 3D, Duke Nukem 3D, Supaplex, Jazz Jackrabbit, The Elder Scrolls: Arena, Quake, The Need for Speed, Grand Theft Auto, Worms, Alone in the Dark, Mortal Kombat, and countless others. 
Needless to say, some of the titles are only playable demos, and the link in the description will point you to the store where you can buy the full version of the game. A perfect example of that is Mortal Kombat, which will guide you to GOG where you can buy the first three entries in the franchise. 
All other games that aren't available for purchase anywhere else are free, and you will be able to try them out. So, just to be sure, always check which games are full and which ones are just demos. The easiest way to do this is to simply select "full version" from the menu. 
Summary
Games have significantly evolved in the past few decades, and it is incredible to see what developers can achieve. They keep pushing the boundaries of gaming, but many people still require a dose of nostalgia in their lives. 
If you have ever dreamed of playing games from your childhood (or other vintage titles), there are numerous websites that may help you with this. Abandonware is a term used to describe a product that no longer receives support, and the copyright owner won't press any charges for people playing the games. 
Most commonly, these titles are rather old, and you can't buy them anywhere even if you would like to do it. A perfect example of this is DOS games and titles like Doom and Prince of Persia, which can be found online. 
Hopefully, you will find some of the exciting titles on the list here, and it might send you on a trip down memory lane.
If you found this article useful, you may want to save this pin below to your Gaming board.